A mother's grief
Catherine Uwasomba seeks clues, answers to her daughter's disappearance, death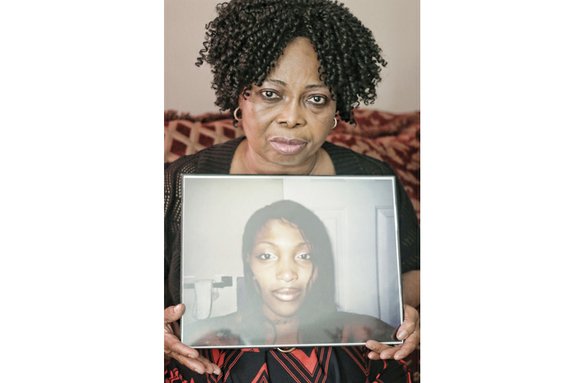 What happened to my daughter?
That's the question a grieving mother is asking after Richmond police officers found the remains of her 28-year-old daughter — Ogechi Sarah Uwasomba — more than nine months after she was reported missing.
DNA analysis confirmed the decomposed body found March 11 in an alley behind homes in the 00 block of Rodman Road on South Side to be that of Ms. Uwasomba, who lived in Chesterfield County.
Her mother, Catherine Uwasomba, reported her missing to the Chesterfield Police Department on June 7, 2014.
Since then, Mrs. Uwasomba repeatedly has sought answers from the Richmond and Chesterfield police departments about her daughter's disappearance and death.
She believes her daughter was a victim of foul play. She said she's frustrated because officials from both departments have told her no evidence so far suggests foul play in her death.
"Chesterfield police ruled out foul play" when it was still a missing person's case, Mrs. Uwasomba said.
Richmond police indicated they don't believe foul play was involved even though the autopsy report has yet to be completed.
"I just want justice," Mrs. Uwasomba told the Free Press.
At 5-foot-6 and about 200 pounds, Ogechi was the youngest of three daughters in the Uwasomba family — the happy-go-lucky child who always made her mother laugh.
She called her daughter "my best friend," and described her as "a warm, loving person."
A 2004 graduate of Midlothian High School, Ogechi earned an associate degree in accounting from J. Sargeant Reynolds Community College in 2006. But she failed to thrive in that field, and was job hunting and planning to return to community college to pursue nursing when she disappeared.
Court records show Ogechi had convictions on traffic charges, petit larceny and controlled substance possession during the past few years. Her mother attributed that to the periods when Ogechi, who she said suffered from bipolar disorder, wasn't taking her medication.
Adding to the tragedy, Mrs. Uwasomba's husband — Onyebuchi E. Uwasomba — died of cancer six months before their daughter disappeared.
Numb from the unbearable pain she has suffered, Mrs. Uwasomba recently moved from the family's home in Chesterfield to another one in the county.
"My heart will know no peace until I have an answer to the cause of my daughter's mysterious death," Mrs. Uwasomba said. "How did she die? Who was there with her or responsible for her death?"
Mrs. Uwasomba, a native of Nigeria, said a witness reported seeing her daughter leave the family's home in Chesterfield on May 30, 2014, and get into a green Pontiac driven by a man.
She said someone later reported seeing a woman matching her daughter's description being chased from a green vehicle near the man's home off Midlothian Turnpike.
Mrs. Uwasomba said her daughter's remains were found about 100 yards from that home.
She said the police told her that they had talked by phone with the man, who has since moved to the Southwest. Police told her there is no evidence to charge him.
"They are treating my daughter's death as irrelevant and do not want to spend time and resources to dig out the truth," Mrs. Uwasomba said.
She said police told her they found two cell phones and a bottle of vodka by Ogechi's body.
"My daughter didn't just go out there and pass out," she said.
Osita Iroegbu, a founding member of the nonprofit African Community Network of Greater Richmond that advocates for the local African community, has helped Mrs. Uwasomba in her quest for answers.
"The family is afraid that — especially with the narrative that two cell phones and vodka were found near the body — their daughter's death is being framed to fit the initial narrative of no foul play involved, so that the case can be simply closed with no questions asked," Ms. Iroegbu said.
She added that Mrs. Uwasomba's family believes the case "is being swept under the rug as unimportant and insignificant."
Lynetta Thompson, president of the Richmond Branch NAACP, said she has spoken with Mrs. Uwasomba and has concerns about how both police departments are handling the case.
"It's as if they're just pushing it off because they feel like she doesn't have a lot of support to challenge the system, as if her daughter just doesn't matter," Ms. Thompson told the Free Press.
She said the NAACP would seek to meet with representatives from the Richmond Police Department to further discuss the investigation.
In response to Free Press queries, Chesterfield police declined to discuss who they interviewed during the investigation, neighborhoods they canvassed or information they shared with Mrs. Uwasomba's family related to the case.
"Chesterfield County police continue to collaborate with the City of Richmond Police Department," said Elizabeth Carron, a department spokesperson.
Richmond police, responding to Free Press queries through spokesperson Gene Lepley, stated, "The investigation remains active.
"While at this time, they have no evidence to believe foul play was involved in Ms. Uwasomba's death, detectives are prepared to follow any leads the autopsy results may provide or ones they may yet develop in this case," Mr. Lepley added.
He said the "extreme decomposition" of Ms. Uwasomba's body presented a challenge to the Medical Examiner's Office, but they were confident they would be able to "determine the cause and manner of her death."
Frank Battle, an administrator in the Richmond office of the chief medical examiner, told the Free Press last week, "The cause and manner of death for Ogechi Uwasomba are pending."
He told the Free Press previously it could take up to 12 weeks for the full findings to be completed.
Reached at her home Tuesday, Mrs. Uwasomba said she has been diagnosed with depression and has been prescribed medication since her daughter's death.
"I'm so tired," she said. "All I want is to know the truth about what happened to my daughter."
Anyone with information related to the case can call Metro Richmond Crime Stoppers at (804) 780-1000.