Men who lead
Giving circle aims to strengthen community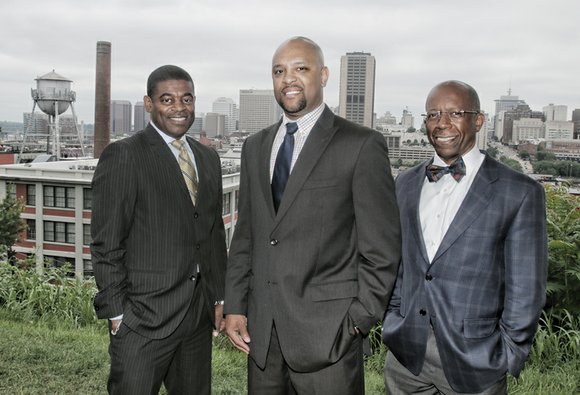 Under a big tent in Mosby Court in Richmond's East End, dozens of children are painting and participating in other cultural enrichment endeavors in an after-school program set up by Kinfolks Community, a nonprofit group. The program will continue to operate during the summer and into the fall.
A few miles away in the Fulton section of Richmond, the nonprofit Neighborhood Resource Center has set up a recording studio where budding stars can cut their first recordings.
Each of the programs has received a $20,000 grant from a new style of philanthropy that is springing up in Richmond and across the country — the giving circle.
While Richmond's Impact 100 — a women's group in which each member puts up $1,000 — is best known, Kinfolks and NRC secured grants from Richmond's first African-American giving circle, the Ujima Legacy Fund.
Ujima is the creation of three African-American men concerned about the level of giving among their peers. Their goal is to get more African-Americans, particularly successful men, to start making their presence felt in supporting young people.
The founders are Robert L. Dortch Jr., director of community innovation at the Robins Foundation; Reginald E. Gordon, chief executive officer of the Greater Richmond Chapter of the American Red Cross, and Damon S. Jiggetts, executive director of the Peter Paul Development Center in the East End.
One day over lunch, they talked about how to build African-American giving. Inspired by the example of the late Thomas Cannon, a postal worker who gave away $100,000 in $1,000 donations, they started the Ujima circle in 2012.
Similar to 23 African-American giving circles that now operate in cities across the country, the Richmond men dubbed their circle after the Kwanzaa holiday's Ujima principle. Ujima is a Swahili word for collective work and responsibility. It celebrates the united effort to build and maintain the community and solve problems.
Teaming with the Community Foundation to handle the money, the founders recruited 17 others willing initially to join them in giving $1,100 apiece — $1,000 for donations and $100 for operational costs.
In addition, the three founders added a fourth member to Ujima's leadership team, Immanuel R. Samuels, a senior specialist for community relations for Altria Group, Mr. Dortch said. Mr. Samuels joined about nine months after Ujima was launched, he said.
The first year, Ujima gave $20,000 to a youth education program, Partnership for the Future. Last year, with more than 40 members, they provided support to Art180, a program that seeks to use art to boost the self-esteem of inner-city children.

This year, the circle grew to 50 members and awarded two grants. "We're hoping to add even more people this year," said Mr. Gordon.
Mr. Dortch said the giving circle is a great way to overcome stereotypes about African-American men, particularly being uninvolved and disinterested in the community. "We are offering a way to make a positive difference," he said.
Arthur Burton, founder and leader of Kinfolks, called the gift from Ujima "a godsend." He already is engaged in creating a hiring hall, building a youth conservation corps, starting community gardens and beginning the youth culture effort.
He has needed all the help he can get. He said the Robins Foundation separately provided $20,000 to support the youth culture program, for which he also is grateful.
Maceo E. Freeman III, a fount of enthusiasm, is directing the youth program. He has partnered with artists Sir James Thornhill and Brihane Webster to work with the children to create murals for community gardens.
While school is in session, he also has volunteer tutors helping youngsters ages 6 to 10 with homework for part of the afternoon session. He also plans field trips to parts of the city most never have visited, such as Belle Isle and Great Shiplock Park.
During the summer, he has plans for multiple fun and educational activities.
"This is the kind of program we need in this community," Mr. Burton said, citing the backing of Ujima as important in demonstrating community support.