Lighted VUU tower enhances city skyline
3/8/2016, 9:41 p.m.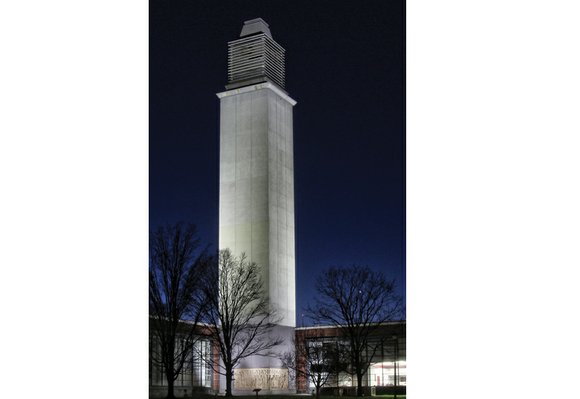 Virginia Union University now has a brighter profile on the city's skyline.
The landmark Vann Memorial Tower at the Belgian Friendship Building on campus is lighted at night and visible across the city and to motorists on Interstate 95.
The lights officially went on Feb. 5.
VUU alumna and former Richmond educator E. Dianne Watkins, who spearheaded the effort to have the lights installed through her nonprofit Bells for Peace, excitedly calls the new tower lights "stunning."
"You can see it from all parts of the city," she said.
It's the second time that Bells for Peace has celebrated the lighting of the 161-foot tower.
The group paid to have lights installed in 2013, but Ms. Watkins said they were "insufficient" and "they could not achieve the impact that was sought."
She then launched a second campaign to get new lighting.
Musco Lighting, based in Oskaloosa, Iowa, agreed in April 2015 to donate $15,000 in electrical equipment and technical expertise for the project after Bells for Peace agreed to match that amount to pay for the labor.
Other donors included the late Dr. Allix B. James, VUU president emeritus; the Art Deco Society of Virginia, which raised $3,000 in a December fundraiser; and the university.
Now, with the new lights, Ms. Watkins said she, other VUU alumni and the city have reason to celebrate.
"It does my heart good," she said, "and it makes a statement that we are here in Richmond and we have a symbolic voice through the lights and the bells. No longer can people ask, 'Where is Virginia Union?' ''
Bells for Peace was founded in 2004 to restore the tower's bells. In 2011, the nonprofit funded the installation of an electronic carillon of 63 tones that sound on the campus at 8 a.m., noon and 6 p.m. each day.
The tower is part of a building that Belgium created for use as its pavilion during the 1939 World's Fair in New York. It features stone reliefs of scenes from Belgium's former colony, the Belgian Congo, which is now the Democratic Republic of the Congo.
Belgium donated the building to VUU when the outbreak of World War II prevented the structure from being returned to Europe.
Ms. Watkins' uncle, the late John M. Ellison Sr., raised $500,000 to bring the Belgium Friendship Building to the campus in 1941 during his tenure as VUU president.
Vann Memorial Tower is named for Robert Lee Vann, a VUU student from 1901 to 1903, who became an attorney and editor of the Pittsburgh Courier. He also served as special assistant to U.S. Attorney General Homer Cummings under President Franklin D. Roosevelt.