Fate of VUU sign, Confederate statue at standstill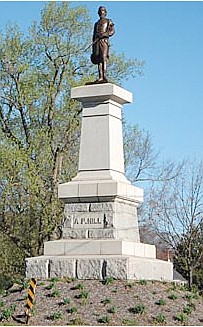 On hold.
That's the status of two landmarks — Virginia Union University's lighted logo signs that sit atop the 165-foot Vann bell tower on the campus, and the last Confederate statue still standing in the city.
The Richmond Planning Commission hit the pause button Monday on the logo signs as it considered whether to recommend City Council approve or deny a required special use permit for the lighted signs.
The commission gave VUU 60 days to get an opinion from the city's building commissioner that the signs were properly installed in December 2019 and do not pose a safety risk of falling to the ground.
The commission could vote its recommendation at the Dec. 6 meeting. City Council already has shown strong support for keeping the signs in place.
The tower, part of the Belgian Friendship Building that serves as the school's gym, is in a city-registered old and historic district, and VUU needs the permit to keep the signs up as they are larger and brighter than allowed in such districts.
Separately, the fate of the statue of Confederate Gen. A.P. Hill at Laburnum Avenue and Hermitage Road is on hold awaiting a decision from a Richmond judge.
Circuit Court Judge David E. Cheek Sr. heard arguments last week and told lawyers that he would issue a written decision within 30 days.
City Hall, which has been eager remove the statue, filed the suit to remove the statue after settlement talks with relatives broke down. The main issue is where the statue would be placed.
The city wants to donate the statue to the Black History Museum and Cultural Center of Virginia, which previously was awarded ownership of other Confederate statues the city once possessed. The relatives of the general object and want to have the city put the statue, which they regard as a grave marker, in a location they select.