Volunteers to help fix up homes for elderly during Affordable Housing Awareness Week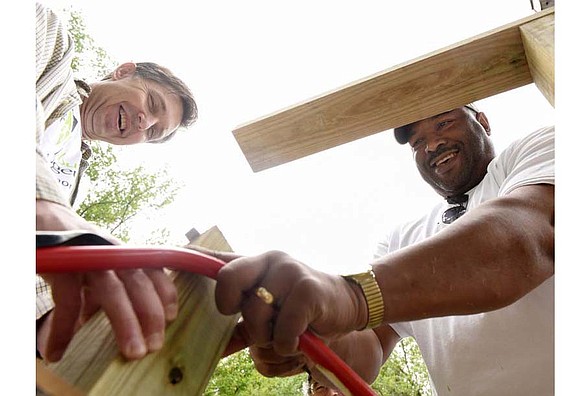 April is here and that means hundreds of Richmond area volunteers soon will pour into neighborhoods to make home improvements for elderly and low-income residents who cannot afford them.
The leader in this effort, Rebuilding Together Richmond, expects more than 800 people to participate in repairing and upgrading 39 residences in North Side on Saturday, April 22.
RTR also is sending volunteer teams to work on homes in the Providence Park, Green Park and Highland Park neighborhoods. They also will do landscaping work at Ann Hardy Plaza and Hotchkiss Recreation Center.
This is the 25th year that RTR, once known as Christmas in April, has undertaken this effort, according to Jillian Daleiden, project manager for the nonprofit.


"We have worked on more than 1,000 homes" since 1992, she said proudly.
"We welcome anyone who wants to participate," Ms. Daleiden said.
Rebuilding Richmond Together undertakes the one-day effort as part of Affordable Housing Awareness Week.
The work of Rebuilding Together Richmond led to the creation of the AHAW coalition of 17 area nonprofits that take on similar projects during the week with the help of supportive businesses and banks.
Since the AHAW coalition was founded 10 years ago, the group has organized more than 4,500 volunteers and made repairs to 375 homes.
The coalition expects to make improvements to 10 to 15 houses in the city from Saturday, April 22, through Friday, April 28.
In partnership with RTR, the AHAW coalition will kick off its events Saturday, April 22, with a celebration of the week and its 10th anniversary. Open to all, the party will be held from 2:30 to 4:30 p.m. on the grounds of St. Elizabeth Catholic Church, 2712 2nd Ave.
During the week, participating employers will give workers the day off to spend time repairing selected homes with one of the nonprofit housing groups in the AHAW coalition.
As part of promoting affordable housing, the AHAW coalition also will hold a panel discussion during the week about current efforts to increase affordable housing.
Elected officials and local government leaders are being invited to participate in a simulation of homelessness under the auspices of Homeward, the area's coordinator of programs for the homeless.
The event set for Thursday, April 27, gives participants the opportunity experience what it's like to be homeless with the task of navigating the challenges of finding food, shelter, transportation and other resources.
Volunteers also are welcomed. To participate, people can register online at http://affordablehousingrichmond.com.
The nonprofit partners taking part include The Better Housing Coalition, Boaz & Ruth, Community Housing Partners, Hanover Habitat for Humanity, Homeward, Housing Opportunities Made Equal, Neighborhood Housing Services of Richmond, Partnership for Housing Affordability, project:HOMES, Rebuilding Together Richmond, Richmond Community Development Alliance, Richmond Metropolitan Habitat for Humanity, Richmond Redevelopment & Housing Authority, Southside Community Development & Housing Corp., Urban Hope, Virginia LISC and Virginia Supportive Housing.