74th Golden Globe Awards hit notes of inclusion
1/13/2017, 7:05 p.m.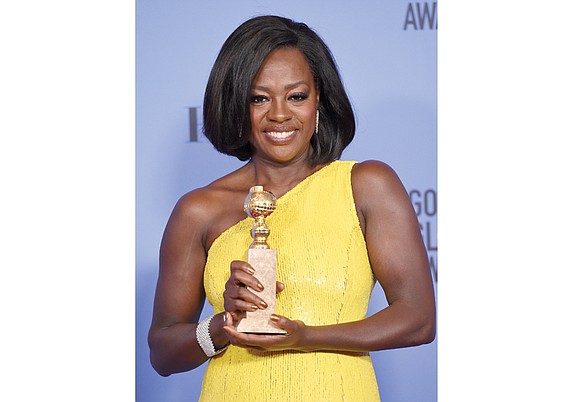 The lack of racial and ethnic diversity in Hollywood was a running joke during last year's Academy Awards ceremony.
This year, several African-Americans were recognized at the 74th Annual Golden Globe Awards, a star-studded event televised from Beverly Hills, Calif.
The event is put on by Hollywood Foreign Press Association to honor the best in film and American television during the past year.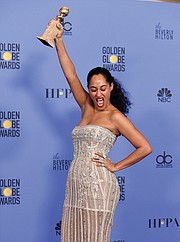 "Moonlight," a film that chronicles an African-American man's journey of self- realization from childhood to adulthood, received six Golden Globe nominations, and was the winner of one: Best Drama.
"Please tell a friend, tell a friend, tell a friend," Barry Jenkins, director of the film, said in accepting the award and trying to boost the film's box office performance.
Viola Davis earned the Best Actress award for her role in the movie adaptation of August Wilson's play, "Fences."
In her acceptance speech, she said the lead male character in the film, played by co-star Denzel Washington, was her father, "… a man who had a fifth-grade education and did not learn to read until he was 15."
His life may not have been big and loud, she told the audience, but "he had a story and it deserved to be told, and August Wilson told it."
"Atlanta," an FX original series about two cousins working in the city's rap music scene, received the award for Best Television Series for a Musical or Comedy.
The series' lead actor, Donald Glover, also received the award for Best Actor in the category, while Tracee Ellis Ross received the award for Best Actress in a TV Comedy for her role as a scattered mom in the ABC series "Black-ish."
"This is for all the women, women of color and colorful people, whose stories, ideas, thoughts are not always considered worthy and valid and important. But I want you to know that I see you," said Ms. Ross, the daughter of legendary singer Diana Ross. "We see you.
"The People v. O.J. Simpson: American Crime Story" won for Best Television Limited Series or Motion Picture Made for Television, with Sarah Paulson, who portrayed Simpson prosecutor Marcia Clark, winning for Best Performance by an Actress in the category.
Meryl Streep, an eight-time Golden Globe Award winner who has been nominated 30 times, received the Cecil B. DeMille Lifetime Achievement Award. Without mentioning his name, Ms. Streep criticized President-elect Donald Trump for mocking a disabled reporter during the presidential campaign.
"It was that moment when the person asking to sit in the most respected seat in our country imitated a disabled reporter — someone he outranked in privilege, power and the capacity to fight back. It kind of broke my heart when I saw it," she told the audience in an impassioned speech. "I still can't get it out of my head because it wasn't in a movie. It was real life.
"And this instinct to humiliate, when it's modeled by someone in the public platform, by someone powerful, it filters down into everybody's life because it kind of gives permission for other people to do the same thing."
The musical "La La Land" received seven Golden Globe Awards, including Best Motion Picture.
Jimmy Fallon, host for the awards show, opened with a taped "La La Land"-themed number in which several stars participated.