Personality: Gigi Amateau
Spotlight on recipient of YWCA's Pat Asch Fellowship for Social Justice
6/16/2017, 12:52 p.m.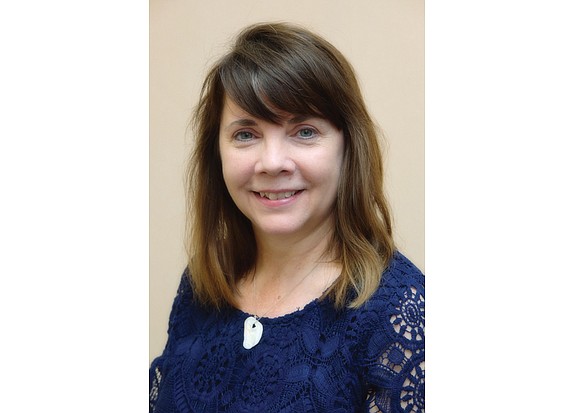 Gigi Amateau was born in Mississippi, the same year President Lyndon B. Johnson signed the Civil Rights Act of 1964. That's the landmark law that outlawed discrimination based on race, color, religion, gender or national origin. Her grandfather, she says, was a minister who spoke against Adolf Hitler in the years leading up to World War II. Growing up during that time and following a family legacy of public service and justice work paved the way for Ms. Amateau to lead a life dedicated to service. She has worked on issues of homelessness, HIV/AIDS, child abuse and eldercare for a variety of organizations, including the United Way, Richmond AIDS Ministry, Virginia Interfaith Center for Public Policy and SeniorNavigator.
Last year, she decided to take her community work a step further and enrolled in a master's program in gerontology at Virginia Commonwealth University.
"I am pursuing a research agenda related to trauma-informed care and resilience for older adults and the long-term care workforce," she says.
Ms. Amateau's dedication to making a difference in the community led her to apply for the 2017 YWCA Pat Asch Fellowship for Social Justice.
She is this year's fellowship winner.
The fellowship is awarded annually to a woman age 50 or older living in the Richmond area who is working to improve social justice in Richmond.
Ms. Amateau says she plans to use the fellowship to learn how trauma impacts the health and well-being of older adults, as well as the long-term care workforce. She wants to develop skills and practices to help elders in the community and long-term care providers, who wind up mostly being women.
"I hope (my work) will result in healthy, happy and well-compensated long-term care providers and healthy, happy older adults who are lovingly wrapped in quality, person-centered care when, and if, they need it," she says.
Ms. Amateau says women live longer. And because of caregiving roles and income inequality, women are more likely to have fewer financial resources in old age, despite the likelihood that they will need long-term care.
"I want RVA to be a great place for everyone to grow old, especially women who have devoted their adult years to providing care," she says.
Ms. Amateau is also the author of several books for children, teens and young adults and is a certified yoga instructor. She says she inherited her grandfather's strength in speaking out against injustice, and attributes her resilience to her grandmother.
"Like my Grammy said, 'You can never give up,' " she says.
Meet this week's Personality and public service promoter, Gigi Amateau.
Latest accomplishment: Recipient of YWCA 2017 Pat Asch Fellowship for Social Justice.
Occupation: Writer, researcher, community advocate.
What I do: I work for the Greater Richmond Age Wave Coalition and Greater Richmond SCAN.
Date and place of birth: Mississippi, 1964.
Current residence: Richmond's Stratford Hills neighborhood.
Family: Husband, daughter and hound dog.
Alma mater: Bachelor's in urban studies and planning from Virginia Commonwealth University.
Reaction when I learned I was selected for the 2017 YWCA Pat Asch Fellowship: I almost fell out when they called me! I burst into tears.
Meaning of fellowship to me: It's affirming a major decision and transition for me, at age 52, to return to school and concentrate on my community work.
What public service means to me: I believe public service encompasses how we care for ourselves and how we care for all living beings. I hope that in my public and private lives, I play a role of advocating for an RVA that is caring, inclusive, equitable and prosperous for all of us.
Volunteer service: I currently serve on the board of directors of the Virginia Children's Book Festival and on the James River Writers Advisory Board. My past board service includes Home Again, Housing Families First and CARITAS.
Why I applied for the fellowship: Pat Asch gave us a radiant legacy of standing up for equality and opportunity for all and of making our community a better place for women. I believe long-term care providers (certified nursing assistants, home health aides, personal care attendants) are undervalued, under supported and often go unnoticed. Similarly, our cultural norms tend to de-value and shame people in old age. I'm interested in disrupting the intersecting dominant narratives of racism, sexism and ageism that block the creativity, wisdom and strength possessed by care providers and older adults.
Impact I hope to have: I hope to join with smart, inspiring and creative people in transforming how our society treats long-term care providers and older adults.
How this relates to YWCA's mission: The YWCA's motto of eliminating racism and empowering women relates directly to the focus of my Pat Asch Fellowship project. The long-term care workforce is comprised of 90 percent women and the majority are women of color.
Three words that best describe me: Curious, optimistic and collaborative.
How I start the day: On waking each morning, I offer a prayer and a vow, "Here are my hands; here is my heart." I first encountered these words, which have come to anchor me in the power of this place where we live and the values that I espouse, when I was researching my book "Come August, Come Freedom" about Gabriel, the blacksmith and freedom fighter, who organized enslaved and free men in 1800 in an effort to end slavery. History shows that recruits into Gabriel's army offered this vow as they stepped up.
Hobbies: Gardening, hiking, reading, bird watching and drinking hard cider.
Best late-night snack: Popcorn and dark chocolate.
Prized possession: Two composition notebooks filled with my granddaddy's handwritten sermons from 1936 and 1937, when he was newly ordained and preaching against the rise of Hitler.
Nobody knows I'm: A pretty good swearer. Just kidding, everybody knows that!
The best thing my parents ever taught me: My parents allowed me to explore my environment unencumbered and to make big mistakes. I think, as a result, I am curious and purposeful.
The one thing I can't stand: Public policy that is punitive, inhumane and bigoted.
Persons who influenced me the most: My grammy and granddaddy.
Book that influenced me the most: "The Known World" by Edward P. Jones.
What I'm reading now: "Parable of the Sower" by Octavia E. Butler.
Next goal: To finish up these two books I've been working on for a while.