Ray Lewis III living outside his father's shadow at VUU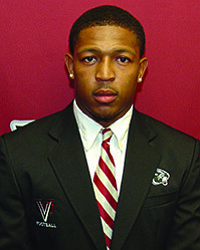 He has the name and he has the game.
When you spot the name Ray Lewis on the Virginia Union University football roster, you take notice.
Then when you see the defensive back making plays all over the field on football Saturdays, you take notice again.
"Ray is a great player and leader," said Panthers Coach Alvin Parker. "He brings his hard hat to practice every day. He's a pleasure to coach."
Raymond Anthony Lewis III, answering to "Ray Ray," is the son of gridiron legend Ray Lewis Jr., who was inducted last Saturday into the NFL Hall of Fame in Canton, Ohio.
With much interest, Ray Ray watched the ceremonies on television from his North Side apartment.
"I had a chance to go (to Canton) but opted to stay here and get ready for the start of our practices," Lewis said.
VUU preseason drills began this week.
In Canton, the elder Lewis spoke for 33 minutes, double the time of other inductees.
"It was a bit lengthy, but I think my father touched on all the key points," Lewis said.
Lewis doesn't have his father's size. He's listed at 5-foot-10, 195 pounds compared to his father's 6-foot-1, 240 pounds.
Lewis also has two younger brothers playing college football. Rayshad Lewis is a sophomore defensive back/wide receiver at the University of Maryland, while Rahsaan Lewis is a freshman defensive back at the University of Central Florida.
A psychology major, Lewis has attended three colleges, with VUU being his latest. He had previous stints at the University of Miami, his father's alma mater, and Coastal Carolina University in Conway, S.C.
He figures heavily into the plans of first-year VUU Coach Parker.
"I've seen a lot of Ray on video and have been impressed with his work ethic the last eight months that I've been with him," Coach Parker said. "He's a flat-out defensive back. He can play safety or the corner, and we may use him on kick returns."
Wearing jersey No. 19, Lewis was in on 37 tackles last season for VUU while also breaking up 12 passes in nine games.
He said he has never worried about living up to his father's status.
"I've never felt any pressure," he said. "I'm just trying to be the best person I can be."
Growing up, Lewis lived with his mother, Tatyana McCall, in Longwood, Fla., near Orlando. He was a heavily recruited running back and defensive back at Lake Mary Prep High.
Both his parents attended VUU's homecoming last November to see him play in the game against Elizabeth City State University. Properly motivated, Lewis responded with his best game — 11 tackles in a VUU victory.
His dad even addressed the Panthers in a spirited pregame speech.
"The team really got hyped up," Lewis said. "It was almost surreal."
Playing for the Baltimore Ravens, his father starred on two Super Bowl championship squads, and registered 2,061 career tackles with 31 interceptions, 42 sacks and 17 forced fumbles.
"I know most people look up to him as one of the greatest players who ever lived," Lewis said. "But, honestly, to me, he's just my dad."