VUU upsets Hampton at Armstrong Stadium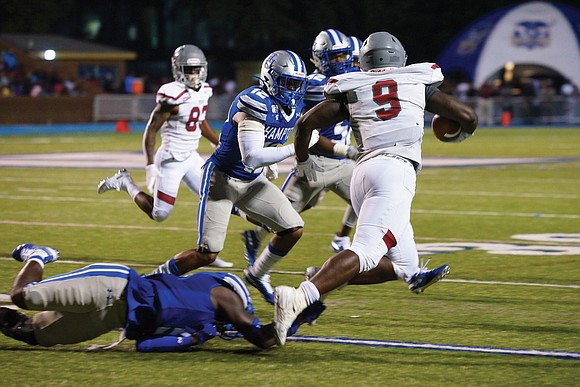 Virginia Union University has scaled one mountain. Now the Panthers are looking to climb another.
There's no time for prolonged celebration or complacency in VUU's football camp. As a reward for stunning Hampton University of the FCS 36-21 last Saturday, the Panthers have a chance for a 2-0 record with a victory Saturday, Sept. 14, over NCAA Division II powerhouse Lenoir-Rhyne University of North Carolina.
"Lenoir-Ryne is certainly the equal of Hampton," said VUU Coach Alvin Parker. "The Bears have the pedigree. They've been where we want to go."
The school in Hickory, N.C., lost in the NCAA semifinals a year ago and opened this season with a 68-7 thrashing of CIAA member St. Augustine's University.
Before a crowd of 8,127 at Armstrong Stadium at Hampton University, VUU thwarted the Pirates' touted quarterback, Deondre Francois, and introduced a star or two of their own. VUU transfer quarterback Khalid Morris threw four touchdowns passes, three to sophomore Charles Hall from Trenton, N.J. "Charles was used sparingly last year; he waited his turn," Coach Parker said. "But when the call came, he answered."
Morris, a Petersburg native who played at Thomas Dale High School in Chesterfield County, came to VUU from ASA College, a private, two-year college in Brooklyn, N.Y. "I didn't decide on Khalid until Thursday practice,"
Coach Parker said. "Not only did he throw for four touchdowns, he was never sacked, which means our offensive line did the job."
That offensive line cleared plenty of space for Tabyus Taylor, too. The junior from Hopewell rumbled for 159 yards, caught a 40-yard touch- down from Morris and returned a kickoff for 58 yards.
"That's the kind of production we expect from Tabyus week after week," Coach Parker said.
HU coach Robert Prunty was duly impressed with the powerfully built 230-pound tailback.
"He looks like an NFL player," Coach Prunty said of Taylor. "He's one of the biggest backs I've seen. He's huge."
Still, the play of the game might have been a punt – or, rather, something that looked like it might be a punt.
With the Panthers leading 23-17 in the third period and facing a fourth and 3 on its own 21, Coach Parker rolled the dice and called for a fake punt.
Instead of snapping to punter Jefferson Souza, the ball went to Sterling Hammond, much to the Pirates' surprise. Hammond scooted 21 yards, moved the chains and VUU never looked back.
Defensively, VUU held Hampton quarterback Francois, a transfer from Florida State University, in check. Hammond and Bryan Epps had interceptions and Elijah Johnson broke up four Francois pass attempts.
Taj Conway, a junior linebacker out of J.R. Tucker High School in Henrico County, led in tackles with 10.
Souza, the Brazilian born junior, hit two field goals and averaged 64 yards on seven kickoffs, with five touchbacks.
Historically speaking, this was a take-notice victory for the maroon and steel. It has been compared to VUU's win over Grambling State University in 1991 as among the best wins ever.
VUU upset Coach Eddie Robinson's Grambling Tigers 46-37 under Panthers Coach Joe Taylor at The Meadowlands.
"It (beating Hampton) certainly ranks at the top of any game I've been involved with," Coach Parker noted.
The second-year VUU coach also saluted his own cheering section.
"Best road crowd ever for Union," he said. "And they stuck with us 'til the finish."
Hampton, now 1-1, will travel to the Windy City on Saturday, Sept. 14, to meet Howard University in the Chicago Classic at Soldier Field.
The Pirates will come to Richmond next fall in what is shaping up as an updated version of the Gold Bowl.
For now, VUU readies for a Lenoir-Rhyne outfit that ranks with the elite in Division II. It's a tall assignment. But then VUU has become used to that kind of stuff.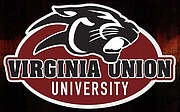 Home sweet home
Saturday, Sept. 14
Virginia Union University plays Lenoir-Rhyne University at VUU's Hovey Field.
Kickoff: 1 p.m.
Game to be broadcast on WNTW radio.