National audiences watch VUU crush Morehouse 45-13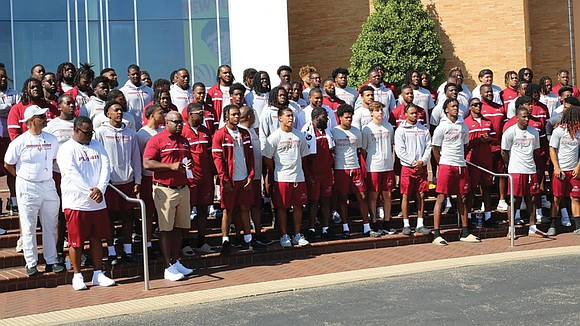 Virginia Union University's Panthers weren't blinded by the bright lights.
Playing in front of national TV (NFL Network) and radio (Westwood One) audiences, the squad was up for the challenge – and then some.
Led, as expected, by junior All-America tailback Jada Byers, VUU trounced Morehouse College, 45-13, in the HBCU Hall of Fame Classic in Canton, Ohio.
"I'm extremely excited how we represented ourselves and the conference (CIAA)," VUU's Coach Alvin Parker told a legion of postgame press.
"This team is out to make its own identity. It doesn't want to be compared to any others and I respect that."
Byers, among the nation's top backs statistically on any level, carried 24 times for 147 yards and three touchdowns, including a 29-yarder in the first quarter that left a host of befuddled Tigers grasping at air.
"I tell 'em, it's not about me," Byers told the press. "I've got the best front five in the nation in front of me and today we showed everyone what VUU football is all about."
Byer's bevy of blockers include returnees Justin Meade and Mark Lawton and intriguing freshman Mathias Nielsen, a 6-foot- 5, 295-pound tackle from Denmark.
While Byers' performance was expected, a newcomer to the spotlight was southpaw quarterback Christian Reid, making his first start as a graduate student.
The native Georgian hit 11 of 15 passes for 153 yards and a TD toss to Joe Johnson. Playing no favorites, he connected with 10 different Panthers for receptions.
Play of the game honors went to Jabrill Norman, who had a 68- yard interception return for a TD along with six tackles and a sack.
Shamar Graham and Curtis Allen had nine tackles each.
Byers was named offensive Player of the Game; Norman, a transfer from Mars Hill, N.C., got defensive top honors.
It was clear domination. VUU had 440 yards total offense compared to Morehouse's 230. The Tigers' first TD came off a blocked punt and the second against a host of reserves.
To be fair, SIAC affiliate Morehouse is coming off a 1-9 season with a new coach, Gerard Wilcher.
VUU plays well on the road and that's a good thing.
The maroon 'n' steel express is headed to Durham Stadium this Saturday for a 1 p.m. CIAA contest with Shaw. Then comes a trip to Salisbury, N.C., on Sept. 16 to play Livingstone.
VUU's home opener will be Sept. 23 against defending CIAA champ Fayetteville State. That will also serve as the Willard Bailey Classic and the VUU Hall of Fame weekend.
Coming off a 9-2 season with an NCAA bid, VUU is likely to be favored in every game this regular season. It helps that presumed toughest games against Fayetteville, Bowie State and Virginia State will be at Hovey Field.
Also making their mark in Canton was VUU's Ambassadors of Sound marching band. The spirited contingent was featured on TV for about 10 minutes at halftime.
Like the football team, the Ambassadors came to play and that they did.