Willard Bailey Classic
Panthers return for first home game of season

Bye bye cramped bus seat. Hello Hovey Field.
Finally, the road-weary, yet road-conquering Virginia Union University Panthers will merely have to stroll across Lombardy Street to play a football game.
Now 3-0 after three long bus rides, Coach Alvin Parker's squad will play host to Fayetteville State 6 p.m. Saturday under the Hovey lights.
It also will serve as the Willard Bailey Classic, honoring the former (and still avid supporter) who posted a 157-73-6 record in two stints of duty, 1971-1983 and 1995-03.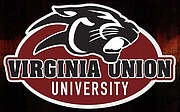 Coach Bailey's Panthers won seven CIAA titles, most recently in 2001 when current Coach Parker was a star running back.
The current edition comes home hot but hobbling a bit due to an injury to star Jada Byers.
VUU opened in Canton, Ohio, routing Morehouse 45-13 on national TV. Then came a 26-13 win in Raleigh over Shaw, and a 28-20 decision this past week at Livingstone in Salisbury.
This Saturday's home opener may offer a preview of the CIAA title game in November. Fayetteville's Broncos are the defending CIAA champs, but off to a wobbly start this season under veteran Coach Richard Hayes.
Fayetteville opened with losses to Pembroke and Lenoir-Rhyne and needed a last-gasp 40-yard field goal to nip Lincoln, 20-17, this past week.
VUU defeated the Broncos last year in Fayetteville, 31- 28, with All-American Byers running for 161 yards and three touchdowns.
A legitimate candidate for NCAA Division II Player of Year, Byers has a nagging injury and did not play at Livingstone and sat out the second half of the Shaw game the week before.
Byers' status for Fayetteville will be a game-time decision.
Still, VUU has an overwhelming offensive line and it showed. Rashard Jackson ran for 185 yards and two touchdowns on 32 carries and Curtis Allen carried eight times for 53 yards.
Jackson, a senior who had been waiting his turn, had just 35 yards on the ground in the first two games, playing behind Byers.
Ephraim Moore, a senior cornerback from Maryland had two interceptions, broke up another pass and made six tackles.
It wasn't the cleanest of efforts, however.
VUU was penalized 15 times for a whopping 149 yards. The officials' whistles were making more noise than the school band.
The Panthers should enjoy Hovey Field while they can.
It's back on the bus Sept. 30 to St. Augustine's and Oct. 7 to Elizabeth City. The Panthers have just four home games.
Opening in 1907, Hovey is among the oldest, still in-use facilities in the nation, and among the best from which to watch a game.
That's because there is no running track surrounding the gridiron. A standard eight- or nine-lane track pushes the stands back some 15 yards. VUU utilizes Sports Backers Stadium for track.