VUU upsets high-ranking Valdosta in 45-40 win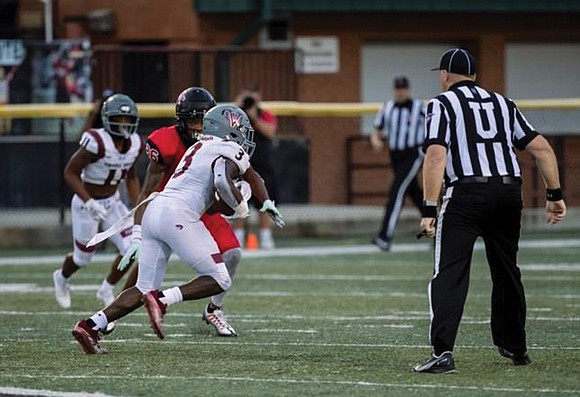 Since starting a football program in 1900, Virginia Union University has won hundreds of games.
Perhaps none were ever more impressive than its latest victory, a stunning 45-40 upset at Division II powerhouse Valdosta State on Sept. 10 in Southern Georgia.
Could it be the Panthers' No. 1 all-time triumph?
"It's up there," said Panthers Coach Alvin Parker, a former VUU player and assistant coach. "If it's not No. 1 it might be No. 2 ... definitely somewhere along those lines."
The trip to Georgia reads like a "believe it or not" script out of Hollywood.
A year ago, Valdosta humiliated VUU in Richmond, 51-7. The Blazers went on to finish second in the NCAA playoffs to Ferris State, Mich.
To start this season, Valdosta was ranked No. 2 nationally by d2Football.com and No. 3 by American Football Coaches Association.
By contrast the Panthers were coming off an ordinary 6-4 season and picked to finish fourth in the CIAA this go-round.
VUU has won numerous CIAA titles and been to nine NCAA playoffs, but this marks the highest ranked team to fall to the Panthers.
If there was ever a more head-spinning VUU win, it might have been a 46-37 triumph over the iconic HBCU program, Grambling, on Sept. 14, 1991, at The Meadowlands.
Grambling was coached by the legendary Eddie Robinson while VUU's coach was Joe Taylor, now the Panthers' athletic director.
VUU has been to nine NCAAs under Willard Bailey (0-5), Taylor (0-3) and Mark James (0-1) but has never defeated a true national caliber Division II opponent.
That's not a knock on previous teams. There have been few chances for an HBCU to schedule big-name national programs. Coach Parker rolled the dice and scheduled Lenoir-Rhyne and Carson Newman in recent years to see how his Panthers stacked up on the highest level.
Now, the Panthers believe that if they can beat Valdosta, on the road, they can beat anyone.
"This changes a lot," said Coach Parker.
The formula for upsetting Valdosta included huge doses of running back Jada Byers and a dominating performance by the offensive line known as "The Moving Van."
"Our big guys played big," said Coach Parker.
Byers, an elusive sophomore from New Jersey, carried 29 times for 319 yards and three touchdowns.
That broke the Panthers' single-game rushing record of 260 yards set by Judge Thomas in 1976 against St. Paul's.
"It's really something to get the record because Union's had a lot of great running backs here," said Coach Parker.
"Jada wanted the ball, and we keep feeding him."
Defensively, cornerback Ephraim Moore was in on 14 tackles.
"It was all business bussing down," said Coach Parker. "On the way back we kind of kicked up our heels."
The Panthers went straight from the field to the bus, ate their bagged Chick-Fil-A dinners enroute and smiled all the way home. The bus returned to Lombardy Street at 9 a.m.
"Right away, we were back on Sunday schedule; I didn't even watch any NFL," said Coach Parker. "We're getting ready to play Livingstone."
CIAA foe Livingstone comes to Hovey Stadium/Lanier Field Saturday for a 6 p.m. kickoff. The Bears are coached by Sean Gilbert, a former NFL first round draft choice out of Pittsburgh.
The visitors from Salisbury, N.C., are 1-1 with a loss to Catawba and a 19-0 victory last week over Elizabeth City.
Among the best teams VUU has played in recent years is CIAA juggernaut Bowie State. The Bulldogs showed a chink in their armor last week, losing 40-12 at Saginaw Valley, Mich.
Must make the Panthers feel like "why not us, why not now"?