VUU to restart football this fall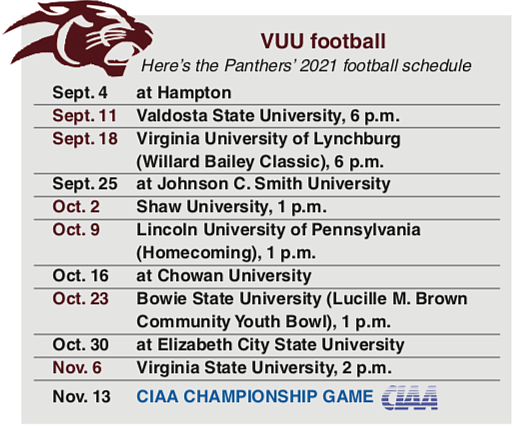 Virginia Union University isn't just sticking a toe in the water to start the 2021 football season.
Instead, the Panthers are diving head first into the deep end.
"Opening the season against an FCS opponent, followed by a program that recently won the NCAA championship, gives us an opportunity to find out what type of team we are early," said Coach Alvin Parker.
VUU will open at Hampton University of the Football Championship Subdivision on Sept. 4 and play host to juggernaut Valdosta State University of Georgia on Sept. 11 at a refurbished Willie Lanier at Hovey Stadium on VUU's campus.
Valdosta State won the NCAA Division II title in 2018 (14-0 record) and went 10-1 last year, advancing to the NCAA second round.
The Panthers' homecoming this season will be Oct. 9 against CIAA opponent Lincoln University of Pennsylvania.
VUU went 7-3 under Coach Parker in 2019 and 8-2 in 2018.