Panthers predict greater gridiron success in '23
Fred Jeter | 11/23/2022, 6 p.m.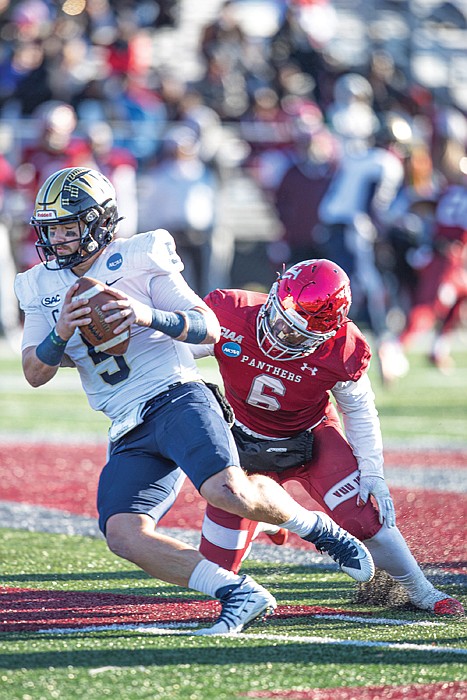 The 2022 football season ranks with the finest in Virginia Union University's football history.
That said, don't be surprised if 2023 is equally exciting.
"Our mission since day one is to compete on the national level, not just for CIAA championships, but for NCAA championships as well," said Coach Alvin Parker.
A season in which VUU was ranked as high as 10th nationally ended with a 32-7 Hovey Field loss to Wingate in the Division II, Super Region 2 Regional.
The Panthers finished 9-2, but with plenty of heat left in the furnace. Of 14 players who received All-CIAA recognition, 11 are expected back in '23.
VUU will lose just three starters on offense and three on defense. Both kickers, All-CIAA Special Teams Player of Year Brady Myers, and punter Marvin Holmes, will be back.
The Roadrunner: Without saying "Beep! Beep!," sophomore Jada Byers made life miserable for opposing defenses all season. It seemed like the "bad guys" never could quite catch him, no matter how hard they tried.
Even in defeat, Byers zigged and zagged for 119 yards on 21 totes against Wingate, while also catching three passes for 27 yards. He finished the season with a school record 1,920 yards and 19 rushing TDs, while tacking on another 162 receiving yards and two TDs.
Zero is a Hero: If John Jiles (wearing No. 0) isn't the most dynamic receiver in VUU lore, he's close to it. The junior college transfer led the Panthers with 40 catches for 627 yards and nine TDs.
Jiles' 48-yard TD catch 'n'run against Wingate was spectacular, but came too late, after VUU trailed 29-0.
The native North Carolinian has the size (6-foot-3), speed, springy legs, and flair for spectacular. NFL scouts might want to take a peek at Zero in Maroon & Steel.
The most noticeable Panthers on defense against Wingate was red-shirt freshman linebacker Shamar Graham. The former Thomas Jefferson High All- Stater spread his wings all over the field, making 14 tackles
Vacancy at QB: VUU will need to replace graduate student Jahkari Grant as signal caller. Grant was outstanding in his lone season as Panthers' QB, but ran out of luck against Wingate. He was sacked seven times and threw two interceptions in the loss.
Alikely replacement is Christian Reid, who battled Grant for the starter's spot up until opening day.
"Christian can definitely carry the load," said Coach Parker, while acknowledging that, like all coaches, he is always on the lookout for fresh talent.
Recruiting trail: VUU had an unprecedented five TV games this season, making Coach Parker's recruitment much smoother.
"We had a couple of recruiting weekends with more than 100 prospects on campus," he said.
"They're coming to us now; they want to be part of a great show. We've put our brand out there."
Grand Opening: VUU has been selected to open next season in the Hall of Fame Classic in Canton, Ohio, on the Sunday before Labor Day. The opponent has not been named, but it will be an HBCU. NFL Network will televise.
VUU once went to the NCAA's on a regular basis. Between 1979 and '91, VUU made nine NCAA appearances.
"I want us to get used to going; used to going to NCAAs," Coach Parker said.
He sees '22 as a warmup for '23, adding, "I told our players before we left (after Wingate) that we'll be back."