VUU's Grant thrills fans in opening win against VUL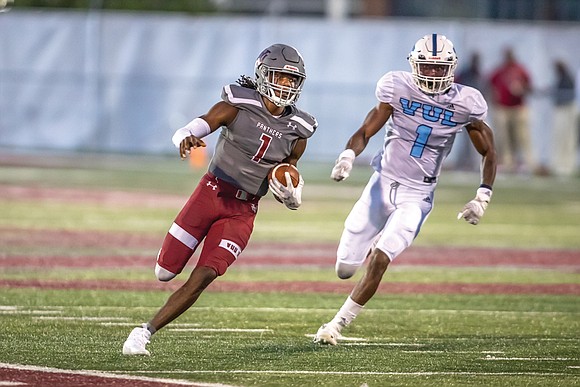 If Jahkari Grant's passing arm gathered any rust after four years of inactivity, it didn't show in his Sept. 1 Virginia Union University coming out party.
In Grant's first serious quarterback performance since high school, he was dazzling in VUU's opening 77-0 victory over under-manned Virginia University of Lynchburg at Lanier Field/Hovey Stadium.
Thrilling a crowd of 4,000-plus for the Willard Bailey Classic, Grant passed for 299 yards and four touchdowns before giving way to his roommate, Christian Reid, in the third period.
The 6-foot-2, 190-pound Grant, with 4.5 speed for 40-yard dash, also ran five times for 27 yards and was never sacked.
"Every school has its own system," said VUU Coach Alvin Parker. "Jahkari may not have fit into his former system, but he surely is a fit for our system. And now the world knows."
Wishfully, Coach Parker dreams of something resembling similar results Sept. 10 when the Panthers take on perennial NCAA Division II juggernaut Valdosta State, the 2018 national champ.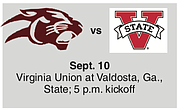 VUU was a heavy favorite against VUL. They will be a major underdog at Valdosta. A year ago, the Blazers defeated the Panthers in Richmond, 51-7.
The Panthers will leave by bus from campus late Thursday, try and sleep through the night, and get in a light workout Friday.
It's not a make-or-break game for VUU. A victory would rocket the Panthers into the Division II poll; even with a loss VUU would remain in contention for the NCAA playoffs.
"Last year we made mistake on top of mistake," Coach Parker said. "Against a team like that you can't make mistakes."
This is Grant's second season with the Panthers since transferring from
the University of Rhode Island. He did not attempt a single pass a year ago, playing behind the departed Khalid Morris and Emond Caldwell.
Grant was a heavily recruited dual-threat QB prospect at Windsor, Conn., High School in the fall of 2017. East Carolina and Memphis were among the FBS schools interested in him.
He chose nearby FCS Rhode Island where he was converted to wide receiver. He received few opportunities to play and decided to try his luck elsewhere.
"We discovered Jahkari in the transfer portal," Coach Parker said. "He definitely came here to be the quarterback."
So, in two years at Rhode Island (2018 and 2019), a 2020 season lost to the pandemic and a '21 season on the VUU bench, Grant seldom took a snap from center.
He made up for lost time against VUL, while surrounded by other opening-night stars.
Quickly, John Jiles, from Wake Forest, N.C., has become a leading target. The 6-foot-3 transfer from Fort Scott Community College in Kansas was sensational in his VUU debut.
"He's a great player," Coach Parker said of Jiles.
VUU lost its top deep threat this season when two-time All-CIAA Charles Hall transferred to Arizona State. Jiles is first in line to become "the next Hall."
Both of VUU's preseason All-CIAA picks had momentous nights. Jada Byers raced for 98 rushing yards and two TDs and returned a kickoff for a third score. Armonii Burden had six tackles including 1.5 sacks.
The visitors from Lynchburg were no match for VUU on either side of the ball, or on special teams. Ephraim Moore got into the act, blocking a field goal and returning it 70 yards to the end zone. It was the most points scored by VUU since a 90-point game in 2018 versus CIAA foe Lincoln.
Celebrations will be harder to come by at Valdosta.
Under first-year Coach Tremaine Jackson, the Blazers opened Sept. 1 with a surprisingly hard-fought 36-21 home win over visiting Keiser, Fla., of the NAIA ranks.
There's good news and bad news for the Panthers. Valdosta QB Ivory Durham was sharp, passing for 270 yards. On the other side, Keiser QB Shea Spencer threw for 263 yards and two TDs, suggesting the Blazers may be vulnerable in the air.
That's a stat in which VUU's Grant will take special interest.