Sheriff wants community work, shorter sentences exchange
7/8/2018, 12:38 p.m.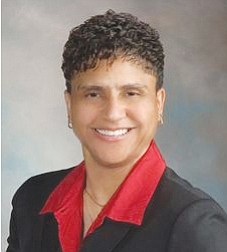 Richmond Sheriff Antionette V. Irving wants more people sentenced to jail to be involved in community service work that includes picking up litter on public property and cleaning Richmond Public Schools buses.
Seeking to revive a once flourishing program, she said she is now acquiring equipment and clothing for participants to use.
She hopes to initially have 10 to 20 people involved in the program and to expand from there. "We want to involve as many people as we can," she told the Free Press in an interview last week.
Since taking office in January, Sheriff Irving said that she already has had a few inmates involved in weekly cleanup projects through what she dubbed the Neat and Community Services programs.
In February, her spokeswoman, Alexis Carey, said the Sheriff's Office began providing inmate help to other areas of the city that needed landscaping support and trash removal. Most of those involved have been sentenced to community service rather than jail time.
Now Sheriff Irving is seeking to expand even further by using willing inmates who are sentenced to serve on weekends.
The sheriff said participating inmates would not be paid, a sore point for some community activists who, in past years, came to City Council to protest such programs as slave labor.

Sheriff Irving's plan is to shorten sentences for those who participate.
People who serve time at the jail, also known as the Richmond Justice Center, usually get one day cut from their sentence for each day they do not get into trouble. It is called "good time."
Those who go out to work would get more "good time" credit, she said, unless the credit would drop their time below the minimum days a judge has required them to serve.
Sheriff Irving said that inmates in the regular jail, for now, could not participate. The only people who could, she said, would be those assigned to Community Custody, a separate area of the jail where people serve their sentences on weekends or who go to work or school during the day and stay at the jail at night and on weekends.
Currently about 78 people are serving sentences that way, data from the Justice Center show.
Sheriff Irving said she is working with Richmond Public Schools to provide people from Community Custody to clean school buses on the weekends. That could start to happen later this summer, she said, if all goes well.
For now, she said she is working on getting people involved in cleaning up parks and other public spaces. She said the program will allow people who are serving time to be more productive, get some exercise and make positive contributions to the community.