VCU master plan highlights major new projects for cityscape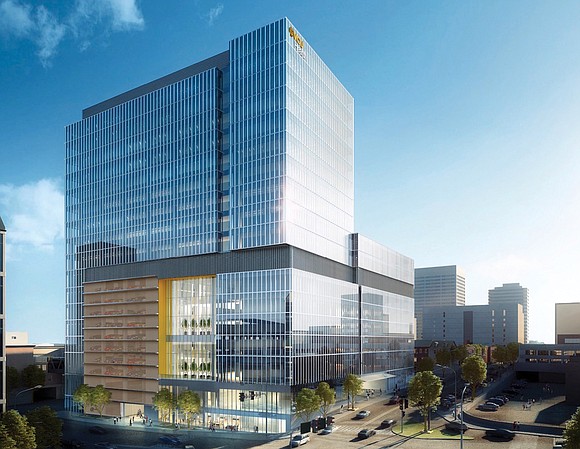 The construction spigot at Virginia Commonwealth University will be flowing for years to come.
The draft of the university's latest master plan, titled OneVCU and unveiled this week, lays out plans for spending $1.2 billion to $2 billion to add new buildings and to renovate and replace aging ones during the next 12 to 15 years on the school's academic and medical campuses.
Such spending on 30 buildings would top the more than $1 billion the school has spent in the nine years since Dr. Michael Rao became president in 2009.
That's good news for area construction companies, including African-American-owned companies, for whom VCU — essentially a small city with more than 33,000 students and thousands of employees from professors to groundskeepers — is a significant employer.
The plan, which is on track to be approved by VCU's Board of Visitors in December with some tweaks, examines the school's parking and transportation needs, streetscape improvements and more than 30 different projects, ranging from a new student commons and new student housing to a neuroscience research facility and new space for the Pauley Heart Center.

Some of the projects already are underway, including a $349 million adult outpatient center now going up at 10th and Leigh streets. It is the most expensive single construction project in city history.
One new proposal in the plan is still tentative. It involves developing a new VCU recreation center on the site of the former Belvidere Medical Center at Belvidere and Leigh streets on the edge of Jackson Ward that once housed several black doctors. As envisioned, the recreation center would serve students and community residents.
Another calls for VCU to create an athletic village off campus for varsity athletes, including practice fields for soccer and lacrosse teams, a tennis center, a baseball stadium and a field house for practice space for other sports.
While the site has not been identified, speculation is focused on land at Hermitage and Robin Hood roads now occupied by the offices and warehouse of the state Alcoholic Beverage Control Department. The ABC Department is in the midst of planning construction for a new suburban operations and warehouse center it expects to occupy in 2021.
Conspicuously absent from the OneVCU plan is any mention of an in-patient children's hospital to complement the $200 million pediatric outpatient pavilion that VCU opened in March 2016 at 10th and Broad streets.
Talk of a new children's hospital has been around for more than a decade, and periodically revived since VCU took over the formerly independent Children's Hospital of Richmond in 2010.
The last big effort to develop a new children's hospital collapsed in May 2015 when Bon Secours and VCU Health ended talks about joint development of a children's hospital.
Since then, VCU spokeswoman Pamela D. Lepley repeatedly has told the Free Press that the university still is considering developing an in-patient hospital for children.
In 2016, she wrote in response to a Free Press question, "As I indicated earlier, a master site facility planning process is underway that will include new facilities for in-patient children's care — as well as women's health, cancer and other medical surgical areas. The plans are at a conceptual level right now. More detail is expected in the summer."
But no such details emerged, and the facility planning she mentioned apparently morphed into the OneVCU project.
When asked this week why there is no mention of a children's hospital in the OneVCU plan, Ms. Lepley responded, "The in-patient children's facility is part of the (VCU Health System) master facility plan. The (OneVCU) plan deals with academic and academic-related facilities and infrastructure."
However, the plan's list of projects includes several aimed at meeting the clinical needs of the VCU Health System.
For example, the project list includes the proposed renovation of the Nelson Clinic and the Ambulatory Critical Care area to meet "Health System needs," the OneVCU plan states.
The list of projects also includes future renovation of the West and North hospital buildings, also to meet VCU Health System needs.