New VCU Health Adult Outpatient Pavilion to open Dec. 6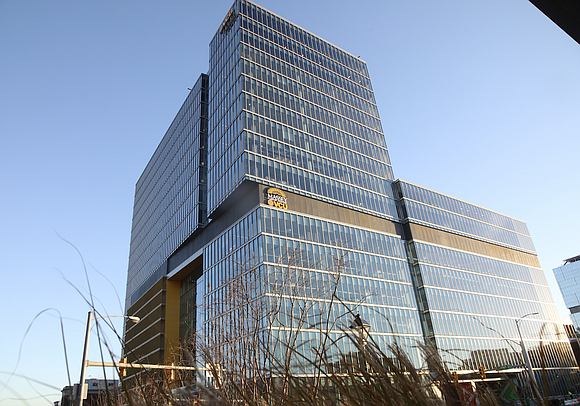 After more than four years of design and construction, opening day is finally arriving for the new Adult Outpatient Pavilion on the medical campus of Virginia Commonwealth University.
The 17-story facility, located at 10th and Leigh streets in Downtown, cost $384 million, took 31⁄2 years to construct and is expected to serve 200,000 people a year.
VCU President Michael Rao will lead a virtual ribbon cutting at noon Monday, Dec. 6, to formally launch services.
The building is the largest single investment the university has ever made in patient care and is part of more than $1 billion VCU is investing to improve facilities. The new building is described by VCU as a "one-stop shop for outpatient care."
Inside, VCU officials said, the building incorporates most of the Massey Cancer Center's outpatient services, including cancer clinics and infusion and radiation services; women's services; and many of the outpatient clinics now housed in the Ambulatory Care Center, North Hospital and Nelson Clinic.
The new building also will house an on-site laboratory, a pharmacy and medical imaging services along with research and teaching space.
When construction began in June 2018, Dr. Marsha D. Rap- pley, former chief executive officer of VCU Health System, said, "We are embarking on a landmark journey of modernizing our Downtown facilities to match the caliber of people who make up VCU Health and to provide spaces that meet the needs and expectations of the people we serve."
During construction, VCU Health approved an expansion that added the 17th story and about 200,000 additional square feet of space than first announced. Overall, the massive building includes 615,000 square feet of health care space.
The building also includes two floors below ground and has parking space for more than 1,000 vehicles.
The only significant outpatient care that has not been relocated to the new building includes the Pauley Heart and Hume-Lee Transplant centers and the primary care and family medicine services, according to VCU. Those are to remain in the Ambulatory Care Center at 11th and Clay streets.
Meanwhile, VCU is pouring $350 million into developing a new 84-bed, in-patient children's hospital at 10th and Marshall streets next to City Hall.
And next year, a private developer, Capital City Partners, will start investing $325 million into replacing the city's old Public Safety Building at 9th and Clay streets with a 20-story mixed-use complex that will include offices for VCU Health and provide space for two private, nonprofit hotels that serve patients' families.