Upscale coffee and wine bar to honor Richmond's historic black bateaumen
By Samantha Willis | 9/27/2018, 6 a.m.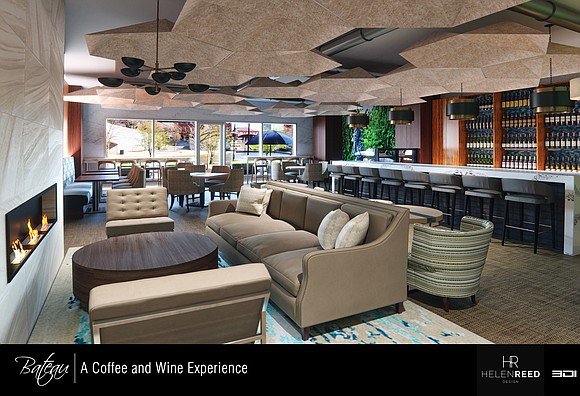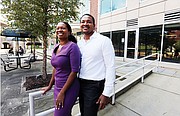 A boatman stands frozen in time on Brown's Island, pulling a mighty oar and looking into infinity.
The 14-foot-high bronze statue, dubbed "The Headman," pays homage to the enslaved and free black men who used their nautical expertise to steer small vessels — bateaux — full of goods up and down the James River in 19th century Richmond.
A forthcoming space on the city's canalfront will offer fine wine, custom blended coffees and chef-curated small plates as it honors the memory of Richmond's bateaumen and their contributions to commerce in the city.
Dr. Harry Watkins and Arvat McClaine said the lesser-known legacy of these skilled, forward-looking men inspired them to create Bateau, A Coffee and Wine Experience.
Dr. Watkins and Ms. McClaine are partners in this venture and in life. Married for 24 years, the couple co-owns a counseling service, Harry Co., that offers therapeutic treatment to youths and adults with behavioral and mental health issues.
Additionally, Ms. McClaine is a published author and podcast host, and Dr. Watkins is well known in Richmond for his former role as senior research and policy analyst for the Congressional Black Caucus Foundation.
Husband and wife share soaring aspirations for their new, upscale coffee bar, which is under construction on the canal level of the Vistas on the James condominium complex on Virginia Street in Shockoe Bottom. Leipertz Construction heads up the construction and Helen Reed Design is responsible for the interior. 
"This is an opportunity for us to give the city a different experience," said Dr. Watkins, as he sat beside his wife in a lofty suite overlooking the James River from the building's upper floors.
Learning about the legacy of the bateaumen was a revelation for both of them, said Ms. McClaine.
"Yes, some of these men were enslaved … so we recognize the heaviness with that. But where we find the joy is that these men fashioned their own freedom through their work on the waterways."
While bateaumen were charged with the transport of tobacco and hand-crafted goods, oral history says some used their positions to help other black men and women escape the confines of chattel slavery, Dr. Watkins and Ms. McClaine noted.
That historical narrative will be featured prominently at Bateau, which is scheduled to open later this fall. Geographically, the coffee and wine bar literally will be surrounded by meaningful markers of Richmond history. It is located within walking distance of the American Civil War Museum, the Richmond Slave Trail and the Richmond Slavery Reconciliation Statue.
Inside, a wall mural of a bateauman will be one of the first things guests see as they enter the roughly 1,400-square-foot space. 
Adjacent to the Riverfront Canal Cruise station, Bateau will have a capacity for 49 guests and will feature a kitchen, a bar stocked with imported and domestic wines, as well as exotic coffees and other beverages.
Dr. Watkins said chef Michael Hall of Spoonbread Bistro is helping them craft a limited menu of small plate, tapas-style dishes to sate guests' appetites. With elegant decor and live music in the background, it's easy to imagine Bateau will live up to Dr. Watkins' and Ms. McClaine's vision for a "special, beautiful, culturally conscious place for people to relax and connect." 
Getting a restaurant off the ground is no small feat, and in a city suffused with eateries, standing out from the crowd will be a challenge. But it's a challenge the couple said they are prepared for.
The couple is funding Bateau with their own savings, and bought — rather than leased — the space in Vistas on the James, which has never been occupied in the 10 years since the building's construction.
The only restaurant experience between the two of them is Dr. Watkins' three-year stint as an assistant manager of two hotel restaurants in the 1990s. That fact doesn't scare the determined duo who are both native Richmonders. 
"We don't give energy to the negative; we look forward to the positive," Ms. McClaine said.
Dr. Watkins agreed. "I think Richmond will love that we're bringing a fresh perspective to the city's food and beverage scene. I think Bateau will be welcomed with open arms, and we know it will be a success."
Dr. Watkins said he plans to spend a good deal of time as the "face" of the business, but the couple plans to hire a full-time house manager in the future.
Dr. Watkins and Ms. McClaine have engaged Christy Coleman, chief executive officer of the American Civil War Museum, to speak at a special "History Happy Hour" at Bateau as part of a series of pre-opening celebrations in October. Ms. Coleman is to speak about the lasting legacy of the bateaumen and how they factor into the history of Virginia waterways and American history. Details on the event are forthcoming.
Following an invitation-only soft launch scheduled for Nov. 9, Bateau will be open 7 a.m. to 3:30 p.m. and 5 to 11 p.m. Tuesday through Sunday.
Check www.bateaurva.com for updates.