Souza brings 'futbol' skills to VUU football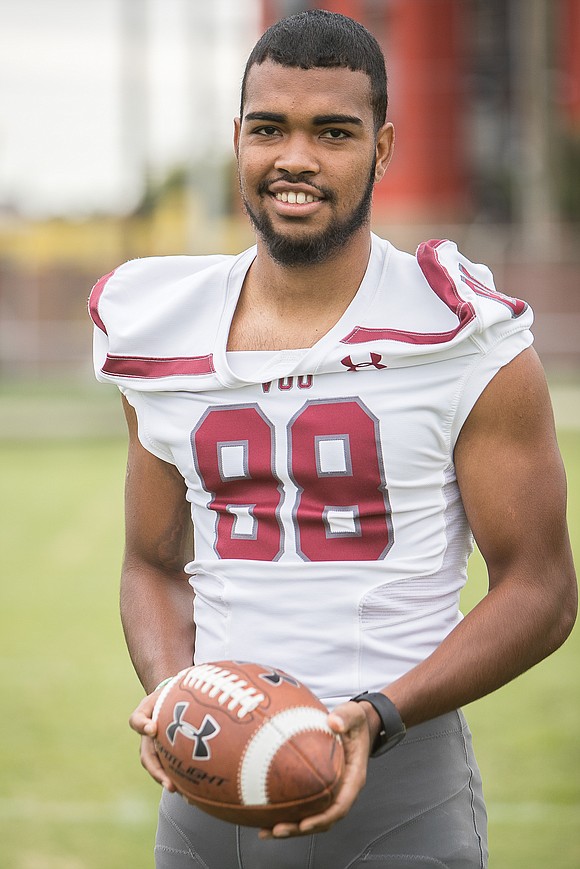 Jefferson Souza has transitioned nicely from kicking a round ball to kicking one that's oblong.
The Virginia Union University junior grew up playing soccer in his native Rondonia, Brazil. He didn't pick up American football until his family moved to Deerfield Beach, Fla., in Broward County.
"Soccer (called 'futbol' in Brazil) was my main focus until high school," Souza explained. "The coach saw how far I could kick a soccer ball and asked me to come out."
It is understandable Souza focused on soccer while in Brazil. The nation's team has won five World Cup titles, more than any nation, while also finishing second, third and fourth, two times each.
Despite Souza's late start in American-style football, he has since become the record-setting All-CIAA kicker for Coach Alvin Parker's Panthers.
The side-winding, right-footed Panther definitely gives VUU a leg up on the competition after converting from scoring soccer goals to American field goals.
"Any time we get inside the 30 (yard line), we feel like we've got at least three points for sure," Coach Parker said.
As a sophomore in 2018, Souza con- verted 15 field goals in 18 tries, with a long of 45 yards, and 49 extra points in 52 attempts.
"Jefferson scored as many points (94) himself as some entire teams did for the season," Coach Parker said. "That's like the same as 15 touchdowns."
Also, the 6-foot-1, 190-pound Souza sent his kickoffs an average of 60.1 yards, with 18 touchbacks.
Souza has set school records for both extra points and field goals. His 49 points scored after a touchdown broke the mark of 43 points set by Rod Copeland in 1981. His 15 field goals have eclipsed Tony Oby's total of 12 in 2003.
Souza, who speaks fluent Portuguese, the official language of Brazil, has polished his kicking craft for years under the direction of Brandon Kornblue, a former kicker at the University of Michigan who runs a popular kicking camp in Fort Lauderdale, Fla.
"We worked this summer on my me-
chanics and getting stronger," Souza said. "Last season, I was 15 for 18. This season Iwanttogo18for18."
Asked about potential distances, Souza confidently replied, "I think I can hit from 50, even 60."
Punting likely will be added to Souza's game-day chores this season following the May graduation of three-year starter Russell Ballance.
"I sure hated to see Russell go," Souza said. "We practiced together and became great friends. I even went to his house for Thanksgiving."
Ballance, who led the CIAA in punting, also served as Souza's holder a year ago. That duty is now assigned to quarterback E'Mond Caldwell.
Souza was recruited to VUU by former Panthers Coach Mark James. His other options included Alcorn State University in Mississippi and Austin Peay State University in Tennessee.
"I have personal goals but, mostly, I have team goals," Souza said. "Our goal is to win the (CIAA) and keep going. We're thinking national."
Considering where its star kicker hails from, any news of VUU's success might need to be translated into Portuguese.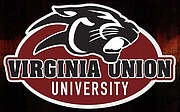 Countdown to kickoff
Virginia Union University plays Hampton University, 6 p.m. Saturday, Sept. 7, at Hampton's Armstrong Stadium; game to be broadcast on ESPN+.
VUU football to be broadcast
Virginia Union University football is on the air.
The Panthers' games, both at home and away, will be broadcast this season on radio station WNTW, 820 AM and 92.7 FM. WNTW, "The Answer," operates out of Chester.
The first broadcast will be Saturday, Sept. 7, when VUU travels to play the Hampton University
Pirates. Kickoff: 6 p.m.
Also, many VUUmen's and women's basketball games will be broadcast on the same station, according to Jim Junot, VUU sports information director.