Cityscape: Slice of life and scenes in Richmond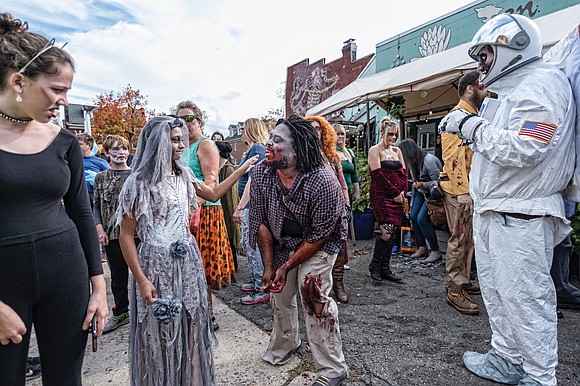 Carytown was filled with the living dead last Saturday as scores of ghoulishly costumed people participated in the 15th Annual Richmond Zombie Walk.
The event, which draws even more spectators than participants, benefits the American Cancer Society.
Participating zombies gathered at a staging area at Boat Lake in Byrd Park, where donations for the cancer society were collected and prizes were awarded in categories including the "Most Disgusting," "Best Couple," "Best Group" and "Zombie of the Year."
Photos were taken because, once in character, the zombies were asked to refrain from taking photos during the walk.
The creatively costumed group then went to the starting point at the Byrd Theatre where they slithered, lurched, crawled and limped along the sidewalk in full zombie splendor up Cary Street to Nansemond Street, where they turned and paraded the five blocks back to the Byrd Theatre. Already, plans are being cooked up for next year's pre-Halloween event.