Pushback
Maggie L. Walker's grave, historic Black, Jewish cemeteries, hit by graffiti
George Copeland Jr. | 8/6/2020, 6 p.m.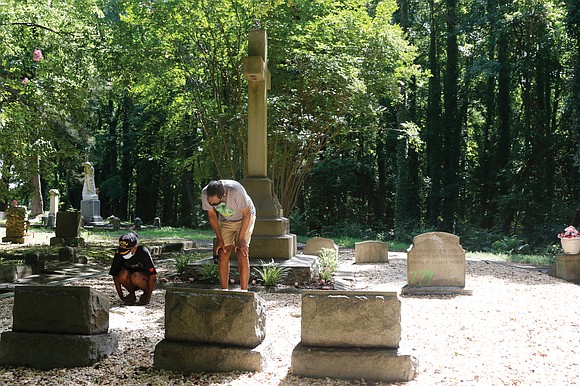 Cleaning plans, discussions and investigations are underway after Maggie L. Walker's gravesite at historic Evergreen Cemetery and at least four other historic sites — including two African-American cemeteries and a Jewish cemetery — were tagged with graffiti.
The numbers "777" were spraypainted. Walker's gravesite, a bench and nearby trees, and on the entrance pillars to the cemetery off Stony Run Parkway in the City's East End near the Henrico County line.
Evergreen Cemetery officials, volunteers and members of Mrs. Walker's family were first alerted to the vandalism early Monday morning by John Shuck, who for the past seven years has helped lead efforts to clean up and restore the historic burial ground where the pioneering businesswoman, bank president and activist was laid to rest in 1934.
Similar graffiti also was found at adjacent East End Cemetery, on grave markers at Barton Heights Cemetery in North Side, and at Sir Moses Montefiore Cemetery in Fulton, which was started in 1886 by orthodox Jewish immigrants to the city.
More graffiti was discovered Tuesday at the launch pad for the Richmond Slave Trail near the James River, and graffiti targeting Mayor Levar M. Stoney also was found on the Reconciliation Statue at 15th and Main streets near Shockoe Bottom.
"Upon hearing the news, my heart dropped," Liza Mickens, 22, Ms. Walker's great-great-grand- daughter told the Free Press on Monday. "She is so beloved in the city. To choose to defame her final resting place is shameful and vindictive."
There was some initial speculation that the tagging of Mrs. Walker's grave was related to a similar incident at Evergreen three years earlier ago, according to John Sydnor, executive director of the Enrichmond Foundation that owns Evergreen Cemetery, founded in 1891 and the final resting place for many notable African-Americans in Richmond's history.
This theory was dropped, however, as news spread of the same green graffiti found at Montefiore Cemetery and Barton Heights Cemetery, which was founded in 1815 by free African-Americans in Richmond.
According to the Anti-Defamation League, the numbers "777" became a symbol appropriated by the Nazis and has links to a white supremacist group in South Africa, though nothing has been confirmed. Richmond and Henrico police are investigating.
Mr. Sydnor said that it's difficult to pinpoint when the vandalism took place, but volunteers were working in Evergreen on Saturday evening.
He said officials and volunteers are brainstorming to ensure this and other acts of vandalism don't happen in the future, and are working to clean up the graffiti and provide assistance to the other cemeteries that were hit.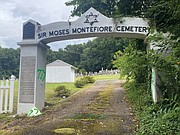 "Any help we can give to our other folks and fellow caretakers and stewards, we're here," Mr. Sydnor said.
For Ms. Mickens, the places chosen by vandals to tag are a sign "that marginalized communities are being targeted as a means of retribution" and possible response to the calls for racial justice that have accompanied the widespread and ongoing protests against police brutality in Richmond and across the United States.
A similar possibility was raised by the family of the late tennis star and humanitarian Arthur Ashe Jr., who weeks earlier suggested his statue be moved temporarily from Monument Avenue to avoid the potential for vandalism as demonstrators called for the removal of Confederate monuments from the street.
For Dr. Johnny Mickens III, Ms. Walker's great-grandson and the father of Ms. Mickens, the incident is sad, although he's thankful that the damage was minimal.
For Ms. Mickens, it's a situation that validates the work of volunteers and others and "further amplifies the mission to enshrine these sites and uplift the stories of those buried there."