Gun rights advocates holding rally and march Saturday in Downtown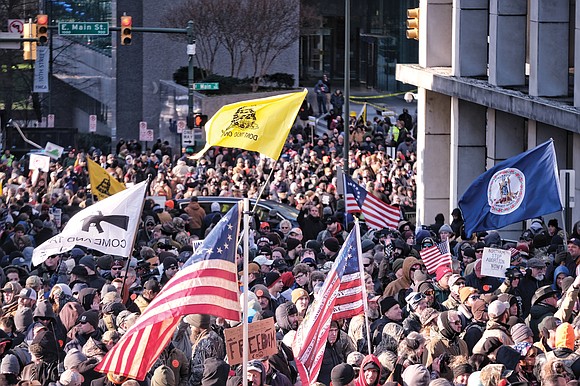 Thousands of people are expected to descend on Richmond this Saturday for a protest at the State Capitol against perceived injustice— new gun control laws that went into effect Wednesday, July 1.
The Open Carry 100K March, organized by a group called Liberty in Virginia, wants to showcase their disdain for the laws that include restoring handgun purchases limits to one a month and a requirement that any seller of a firearm must perform a background check on the buyer before completing the sale.
"This rally on July Fourth is to show that gun owners will not be trampled on! We are citizens who demand our 2nd Amendment rights be protected by the very people who swore an oath to protect us. Any and all gun laws are an infringement and are unconstitutional!" the group stated in a manifesto posted on Facebook.
The rally, to start at 8 a.m. and last into the afternoon, is to feature speeches from GOP state Sen. Amanda Chase of Chesterfield, who is running for governor, and others.
One group, The Right to Bear Arms in Virginia, plans to gather at 10 a.m. in the 1500 block of East Cary Street for a short march to Capitol Square during which they plan to distribute flyers and other literature on the cause.
Gun rights groups drew 15,000 people to the State Capitol in January in a fruitless bid to halt the laws from passage by the General Assembly. Gun rights activists, including the Virginia Citizens Defense League, have taken the battle to court in an effort to overturn the laws as violations of the constitutional right to keep and bear arms.
In a first test, a Goochland County judge refused on June 25 to issue a temporary injunction to halt the one-handgun-a-month law from going into effect on July 1. Virginia previously had the sales restriction that was initiated in 1990 by then-Gov. L. Douglas Wilder. However, Republicans lifted the purchase restrictions in 2012 before Democrats, who won control of the General Assembly in last November's elections, reinstated it.
Gun rights groups also have filed a separate case in Lynchburg Circuit Court challenging the new law requiring background checks for all gun sales, including private ones and ones that take place at gun shows. That law closes a loophole that allowed buyers and sellers to bypass documentation of sales and made it easier for those with criminal records or those adjudged mentally ill to obtain weapons under the radar.