VUU freshman football player collapses during practice and dies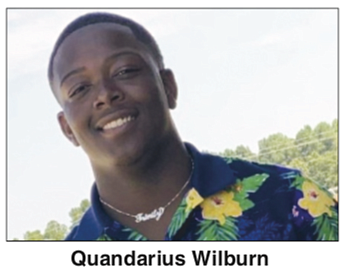 Virginia Union University is mourning the death of freshman football player Quandarius Wilburn, who collapsed and died Sunday afternoon as the team worked out.
According to those present, the 18-year-old from Wadley, Ga., was participating in conditioning drills when he collapsed. He was rushed to VCU Medical Center but could not be revived.
Family members said they were told he suffered an inexplicable and sudden cardiac arrest. They are awaiting more definitive information from an autopsy.
Deaths among young athletes, while rare, have occurred on many college campuses and even in high schools in a variety of mostly outdoor sports. It is unknown whether Quandarius' case relates to high heat and poor hydration, as has been too often the cause in cases elsewhere.
Quandarius had cleared physical exams before joining the team and had no reported health problems, team officials said. He was recruited to play defensive end from Jefferson County High School in Louisville, Ga. The team listed him at 6-foot-2 and 230 pounds.
Earlier on Sunday, the team attended church services and had lunch together before beginning the workout, the school noted in a letter to the campus community. There was no hint of an impending health emergency.
The team resumed its pre-season workouts Tuesday dressed in uniforms but without pads. The VUU Panthers' season starts Saturday, Sept. 4.
In January, he posted on his Twitter page: "Blessed to receive an offer from Virginia Union University!" He posted last November that he had received his first offer to play college ball from Reinhardt University, a private, four-year institution in Waleska, Ga.
His funeral will be held Saturday, Aug. 14, in the gymnasium of his former high school to accommodate the expected crowd.
In its only public statement, VUU officials wrote: "The Virginia Union University family is heartbroken about the passing of a freshman student and football player ...Our primary concern is the well-being of the family and fellow students impacted by this tragedy. Virginia Union stands ready to provide support in any way necessary and available as families and students work to process this devastating loss."