Personality: Dr. Denise Lowe Walters
Spotlight on chair of the Board of Trustees of the Science Museum of Virginia
12/2/2021, 6 p.m.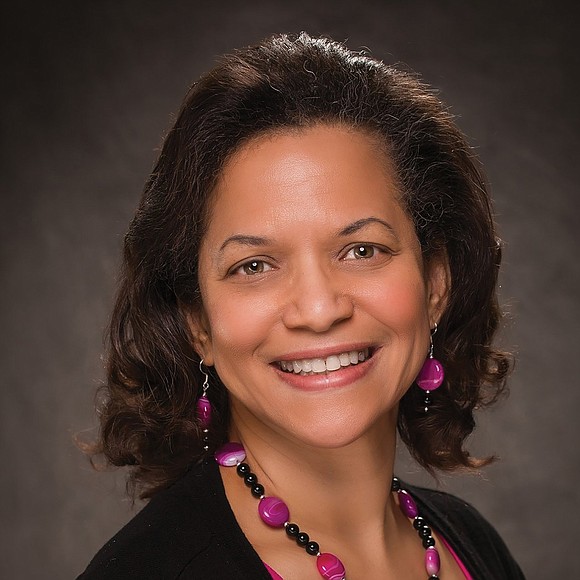 Dr. Denise Lowe Walters strives to be a bridge builder and engine of progress in many of her endeavors. In October, she took on a whole new challenge, one that has the potential to broaden horizons for the Richmond community and thousands of Virginians.
Dr. Walters, a pharmaceutical scientist, is the newest chair of the Science Museum of Virginia's Board of Trustees, and she's set to guide the organization out of a period of sudden changes and fast adaptation for the better.
"I want to bring my engagement, energy and perspective as a multiracial, Afro-Indigenous female scientist to the direction of the Science Museum," Dr.. Walters says.
Dr. Walters' desire to expand relationships and possibilities is a key part of what led her to join the museum's board in 2017. The choice came partly as a result of her membership with the Virginia branch of the American Chemical Society, where she has also served as chair. The new role has served to better connect the two organizations and allow them to work more closely toward their similar goals.
Dr. Walters also was driven to join the museum board following a conversation with a member of former Gov. Terry McAuliffe's administration about increasing the number of Native Americans on state boards.
"As a leader and citizen of the Nottoway Indian Tribe of Virginia, I felt that I should serve both the Commonwealth and represent my tribe," Dr. Walters says.
She noted that the museum has focused during the last 10 years on "its relationship with audiences that have historically had barriers to programming due to income, disability or language."
She talks about the museum's Science Within Reach initiative with community partners to "better reach and meet the needs of those traditionally underserved by museums in our community."
Strategies for more inclusivity include the Museums for All program, with offers reduced admission to low-income families and Minds of All Kinds, which provides a free, sensory-friendly evening developed for those with disabilities.
Additionally, she says Black and Brown visitors to the museum "can see themselves in content in the permanent exhibits, travelling exhibitions and online content, as well as in Science Museum staff and volunteers."
She said the museum highlights contributions from diverse people in STEM fields, "both to acknowledge those contributions and to inspire the next generation to seek out STEM in their lives."
"These highlights don't just take place during days or months of recognition. Rather, the Science Museum looks for ways to highlight Black and Brown contributions to STEM throughout the year, as part of their core content," Dr. Walters says.
She takes on her new role during a time of transition from the pandemic. The museum, she says, is building back its staff after having to reduce the workforce during the pandemic closure.
"I am energized to see a heartfelt commitment to hire a diverse staff, one that reflects the community and will bring different but important perspectives to the Science Museum's work in the future," she says.
The museum still is learning, she says, how to balance the in-person experience with the digital content it can offer.
Dr. Walters' goal for her two-year term as board chair is to increase the board's engagement with the museum's many activities, as well as
encouraging participation from and strengthening partnerships in the community, as well as continuing to advance diversity, equity, accessibility and inclusion initiatives.
"The Science Museum works to create science content that is relevant, relatable and accessible for more than 8.5 million Virginians from all walks of life," Dr. Walters says.
"That is no easy task and it requires the engagement of people in multiple disciplines with both expertise and passion."
Meet a scientist, community leader and this week's Personality, Dr. Denise Lowe Walters:
No. 1 volunteer position: Chair, Science Museum of Virginia Board of Trust- ees.
Occupation: Pharmaceutical scientist.
Date and place of birth: March 26 in New York.
Where I live now: Henrico County.
Education: Bachelor's in chemistry; Ph.D. in pharmacy.
Family: Husband, Joseph Walters, and children, Ben, Jennifer and Justin.
Science Museum of Virginia's mission: To inspire all Virginians to enrich their lives through science.
When and why the Science Museum was founded: The Science Museum of Virginia was founded April 30, 1970, via Virginia Senate Bill 8, to educate the public on concepts and principals of science, to encourage the pursuit of science-based careers, to understand the history of science, to create a space for science collections and to foster appreciation and preservation of nature.
History of Broad Street Station and the museum: Broad Street Station, designed by John Russell Pope, opened in January 1919. It served as a passenger rail station for the Richmond, Fredericksburg and Potomac Railroad, the RF&P Railroad, until 1971 and then continued to service Amtrak passengers until the last train departed the station in Novem- ber 1975. In March 1976, the building was sold to the state. In January 1977, then-Gov. Mills E. Godwin unveiled the Science Museum of Virginia's first permanent exhibit gallery, the Discovery Room.
STEM and the museum: The Science Museum provides opportunities for Virginians of all ages to engage in STEM through permanent exhibits and traveling exhibitions, special programming and events, field trips, out-of-school education, science camps, digital content and so much more. Additionally, the Science Museum hosts/supports the Virginia STEM coordinator who works to coordinate STEM programs statewide.
The museum's biggest challenge: The Science Museum is the marketing agency for science, and unfortunately science has come under attack more and more lately. To market its "client," the Science Museum works to create science content that is relevant, relatable and accessible for more than 8.5 million Virginians from all walks of life. That is no easy task and it is requires the engagement of people in multiple disciplines with both expertise and passion.
Best reason to visit the museum: It's a fun-filled place where people of all ages can experience science.
Most unique feature at the Museum: In my opinion, it's the SR-71 Blackbird Jet, suspended overhead in the "Speed" exhibit.
How Black and Brown visitors can see themselves and be inspired at the Museum: On a daily basis, Black and Brown guests can see themselves in content in the permanent exhibits.
What the Museum is learning from the pandemic: The Science Museum learned so much during the pandemic. From my perspective, one of the greatest learnings that is still taking place is how to balance the in-person experience with the digital content the Science Museum can offer. The Science Museum has been rethinking how it can expand its reach and touch more lives through digital content, while delivering that authentic, in-person experience that so many generations have come to love.
Upcoming events at the Museum: The Science Museum hosts daily Live Science Demonstrations, activities in The Forge and Dome shows, as well as special events throughout the year.
Hours and cost to visit the museum: The museum is open Tuesday through Sunday 9:30 a.m. to 5 p.m. (with some select closures in November and December). Admis- sion is $15.50 for adults (ages 13 to 59), $13.50 for youth (ages 6 to 12) and seniors (age 60 and old), $10 for preschool (ages 3to 5) and free for children ages 2 and under. The museum of- fers reduced admission ($2 adult, $1 youth and senior) under the Muse- ums for All program. Active duty military, retired military and veterans, as well as teachers with I.D. receive free regular exhibit admission. Admission to Dome shows can be added to a visit for $5 per person ($1 under the Museums for All program).
The Science Museum also offers various membership levels at varying price points, including a Museums for All membership for $20 for the year. All memberships include a year of free regular exhibit admission, among other benefits.
A perfect day for me: One where I meet a new person and get to hear their story.
What I am learning about myself during the pandemic: Being my whole authentic self is more powerful than I ever imagined.
Something I love to do that most people would never imagine: I love creating story quilts that focus on chemistry and/or my Native American ancestry and culture.
Quote that I am inspired by: "In our every deliberation, we must consider the impact of our decisions on the next seven generations." — From the Great Law of the Haudenosaunee
My friends describe me as: Energetic.
At the top of my "to-do" list: Devote more time to planning and engaging others in the journey.
Best late-night snack: Popcorn.
Best thing my parents ever taught me: The importance of quality work and the impact of encouragement and support.
Person who influenced me the most: Chief Lynette Allston, chief of the Nottoway Indian Tribe of Virginia. Her leadership both in Virginia and South Carolina and her drive to make a difference in the community and for her people has been a huge inspiration. She is a leader, friend and mentor who encouraged me to be a leader on community boards.
Book that influenced me the most: "Braiding Sweetgrass: Indigenous Wisdom, Scientific Knowledge and the Teachings of Plants," by Robin Wall Kimmerer. How much scientific knowledge have we lost globally by discounting indigenous communities throughout the world and how much can we save if we will stop to acknowledge, listen and learn?
What I'm reading now: "My Grandmother's Hands: Racialized Trauma and the Pathway to Mending Our Hearts and Bodies" by Resmaa Menakem.
Next goal: Within the next five years, I'd like to develop a business plan with a focus on the intersectionality between culture, science and art.