Pharrell to NSU grads: 'You have the ability to create the city, life that you deserve'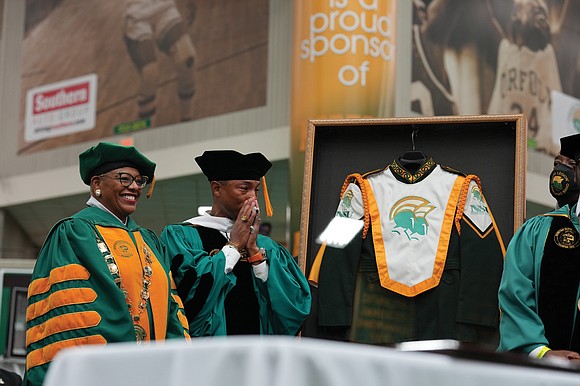 NORFOLK Grammy Award-winning musician Pharrell Williams told the newest graduates of Norfolk State University on Saturday to act like "the emerging majority" and help develop the area's businesses and culture.
Mr. Williams, 48, gave the fall commencement speech at NSU's Joseph G. Echols Hall, not far from where the producer and rapper grew up in adjoining Virginia Beach.
"I didn't attend Norfolk State, but I was always present," Mr. Williams said. "I am honored to have made this part of my work, my story. And still today, I can't wait to see how far you amazing, impressive graduates of Norfolk State ... how far you'll go."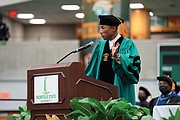 Mr. Williams was awarded an honorary doctorate from the university and also was named an honorary member of NSU's Spartan Legion Marching Band, which brought him to tears. NSU President Javaune Adams-Gaston presented Mr. Williams with a framed NSU band uniform.
Before the presentation, Mr. Williams said he remembered the band as a child and wondered why the band at Princess Anne High School in Virginia Beach where he attended lacked the same "cadence" as NSU's band.
"I wanted to be able to make people feel the way Norfolk State's band made me feel," he said.
Mr. Williams, a songwriter, record producer and entrepreneur, talked about the history of Willis Augustus Hodges, a Black man who was born free in 1815 in Princess Anne County, now Virginia Beach. As a 14-year-old, Mr. Hodges was accused of forging free papers for enslaved people and fled to Canada before he could be jailed. He later settled in New York in 1836, co-founding a weekly anti-slavery newspaper, The Ram's Horn, and writing an autobiography.
After the Civil War, Mr. Hodges returned to Virginia, opened a school and served as a delegate to the Virginia Constitutional Convention in 1867-68. According to Encyclopedia Virginia, he supported civil rights for Black people, a ban on former Confederates from voting and holding office and access to free public schools without racial segregation and other reforms.
In 1870, Mr. Hodges was elected to the Princess Anne County Board of Supervisors and was the first African-American lighthouse keeper at the Cape Henry Lighthouse.
"Like many of you here today, he was an activist," Mr. Williams told the graduates. "Did you know that? He was 14-years-old, chased by an angry mob to Canada and, guess what? He still came back.
"So yes, there is something in the water and it has been there for a long time," he said.
Such stories have power, he said. "The city of Norfolk will thrive because it recognizes how important it is to acknowledge past and local heroes. Norfolk will not be the city that limits its peoples' own potential, but instead, it will feed it. Five years from now, it will be a very different Norfolk."
Mr. Williams' talk focused on Norfolk and not his hometown of Virginia Beach, with which he has had a frayed relationship in recent months.
In October, he criticized Virginia Beach for its response to the death of his 25-year-old cousin, Donovan Lynch, who was shot and killed by a police officer March 26 at the city's oceanfront. Two weeks ago, it was announced that a grand jury determined the officer was justified in the fatal shooting.
Mr. Williams wrote city officials in October saying he won't bring his highly successful "Something in the Water" music festival back to the city's oceanfront, partly because of how the city handled the investigation. The festival reportedly brought a $24.1 million economic boost to the city when it was held in 2019.
He told listeners to do their part by spending money at local businesses that care, and by changing outdated language, like the word "minorities."
"We are the emerging majority," he said. "Don't wait until Election Day. Vote with your wallets today, tomorrow and the next day.
"You have the ability to create the city that you deserve, the life that you deserve," he said.