Old forgotten cemeteries dot the city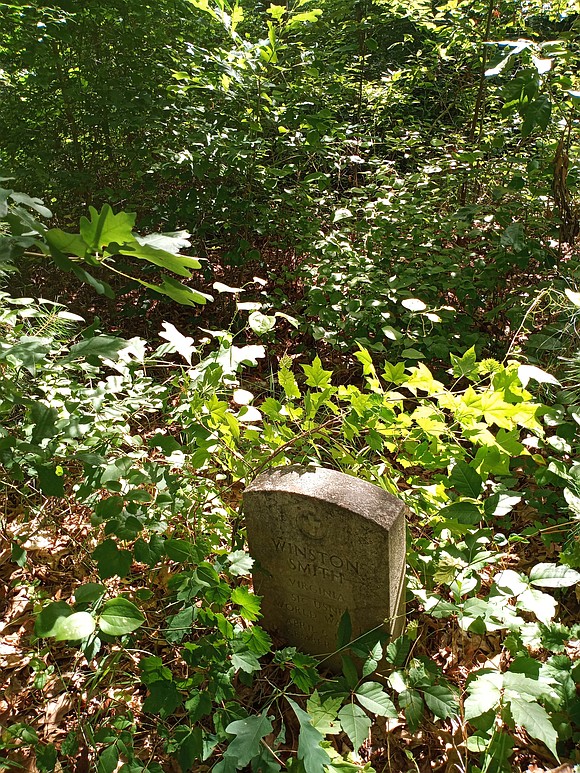 Peggy Stoots made an urgent call to the Richmond City Attorney's Office just two days before a vacant quarter-acre parcel in South Side was to be auctioned off to recover more than $2,000 in past due property taxes.
Ms. Stoots, who has lived near the property for 60 years surprised a staff member by saying, "You can't auction that property. It's a cemetery."
Her call led the auction set for mid-August 2018 to be canceled because, sure enough, she was right.
The abandoned property at 2511 Hopkins Lane holds multiple graves of Black people.
Virtually all of those buried there are members or relatives of a Smith family that acquired the property in 1886 when it was part of Chesterfield County, city records show. The estate of the late George Smith is still listed as the owner.
The Smith land sits within a larger wooded stretch that mostly belongs to the city. The rest of the wooded property was acquired as part of the right-of-way for construction of the modern Hopkins Road, which replaced Hopkins Lane as a main road.
Ms. Stoots said that a now-deceased neighbor who was born in 1880 once told her that, before the Civil War, the land was the burial site for enslaved people who were part of a large plantation that stretched to what is now Broad Rock Road. That remains unconfirmed.
As it turns out, this kind of cemetery is more common than most Richmonders know.
According to city records and other documents, multiple small and large private properties exist that contain forgotten burial grounds, including sections of South Side that were once part of Chesterfield before being annexed into the city.
The biggest forgotten site in Richmond so far is at 1305 N. 5th St., which the city once owned and recently repurchased for more than $140,000. Most of that went to pay off a debt the former owner, who abandoned the property, left attached to the deed.
The 1.2-acre parcel is part of a far larger Black cemetery where an estimated 22,000 people are buried. Between 1816 and 1879, the city owned and operated the historic cemetery, now called Shockoe Hill African Burying Ground. The land later was sold for commercial and transportation uses as if the cemetery never existed.
A former auto repair shop sits on the site that is gaining renewed recognition as historic sacred ground as the result of extensive research and lobbying by a Texas woman, Lenora McQueen, who has relatives buried there.
Another forgotten burial ground, which the city now maintains, was part of a group of cemeteries developed in the late 19th century on a Barton Heights hilltop beside Saint James Street in North Side.
The list of such burial grounds also includes a portion of a 60-acre parcel off Forest Hill Avenue in South Side. Earlier this year, that property was targeted as a potential site for a casino. It apparently includes the burial ground for members of a Green family that once owned it, according to Jason Haase, a nearby resident who has conducted research into this and other properties in the area.
His research suggests there were up to eight, mostly Black, private family burial grounds located within a quarter mile of the Green family cemetery.
The city's list of private Black cemeteries also includes 4909 Bassett Ave. in South Side, a tax-delinquent property with a single-family home. That property recently was transferred to the Enrichmond Foundation, an umbrella nonprofit that supports city parks and recreation.
The foundation already owns and manages two historic private Black cemeteries, Evergreen and East End, that cover more than 60 acres on Richmond's eastern border with Henrico County.
Another property the city lists as holding graves is located at 3106 Hopkins Road, a small, fenced piece of land owned by Larry Burton, city records show. It is located just a few blocks south of the Hopkins Lane property.
Also on the list is a small, abandoned piece of property off Magnolia Road that abuts the private Woodland Cemetery where tennis great and Richmond native Arthur Ashe Jr. is buried. The cemetery itself is now owned by Woodland Restoration Foundation, which is restoring it.
Another is a half-acre property at 6911 Old Westham Road in South Side. The wooded property, which is listed as tax-delinquent as well as unsellable because of the graves, is listed as belonging to the estate of the late Robert Mickens.
In recent years, the once-forgotten cemetery of the fraternal group Sons of Ham, located next to what is now the University of Richmond in the West End, has garnered attention from a group that includes relatives of people buried there.
The expanding list of Black cemeteries in Richmond comes amid a growing effort to identify and support such burial grounds that often date to the 19th century.
In the past four years, Richmond Delegate Delores L. McQuinn has led a successful push to secure General Assembly approval for state government funding to support the maintenance of historic Black cemeteries and to end the previous state practice of subsidizing the tending of graves of Confederates who fought to destroy the nation to maintain slavery.
Support for Black cemeteries has been a long time coming as shown by the battle to save the African Burial Ground at 15th and Broad streets in Shockoe Bottom, which was long used as a parking lot.
For more than 10 years, the Virginia Defenders for Freedom, Justice & Equality, its Sacred Ground Historical Reclamation Committee and others crusaded to end the parking on what was the first public cemetery for enslaved and freed Black people in Richmond.
The campaign finally bore fruit during the administration of Republican Gov. Bob McDonnell, who arranged to turn the property over to the city so the asphalt could be removed and the 18th century burial ground memorialized.