Personality: Sheila E. Battle
Spotlight on board president of The Innerwork Center
11/4/2021, 6 p.m.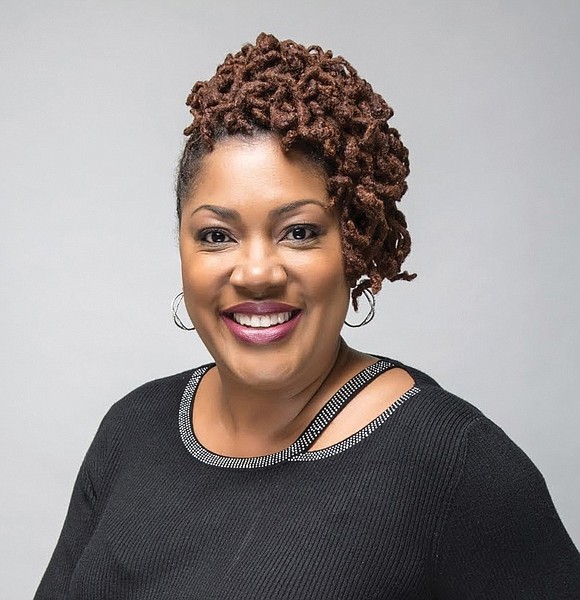 At a time of reassessment for individuals, systems in Richmond and the world at large, Sheila E. Battle is at the forefront of a group fostering change through a unique method – inner work.
The nonprofit is called The Innerwork Center. As the board president, Ms. Battle and other members are seeking to guide people on an inward path to self-awareness and self-discovery, leading to personal improvements that can better their lives and the lives of many.
"We offer an opportunity to dive in and explore what matters most so we can bravely do the work that nurtures our souls," Ms. Battle says. "Doing so ripples out into the community and creates a more compassionate city for all of us."
Founded in 1994 by Nancy Millner as Chrysalis, the non-profit's name change to The Innerwork Center in 2019 happened after a period of internal transformation during which the organization shifted from a small group of like-minded individuals to a larger coalition. That shift, according to Ms. Battle, required a name that brought greater clarity and focus to their mission in society and within the self.
Ms. Battle was elected as board president last July. She has been a member of the organization for five years. She says she was inspired to join out of a desire "to explore spirituality outside of a traditional context."
In her new role, she works to see The Innerwork Center's mission fulfilled and "to represent this powerful resource to our city and extend an invitation to learn, grow and heal together."
Ms. Battle is well versed in consulting and coaching. She also brought her skills to TEDxRVA in 2016 as a speaker.
"We define compassion as seeing the suffering in yourself and others, and wanting to alleviate that suffering," Ms. Battle says. "In a society that encourages us to run away from our humanity and the humanity of others, the purpose of our work is to show you how to run right toward it, even when it is hard."
That work is done at The Innerwork Center through free weekly drop-in groups, programs and seasonal retreats, with options for in-person and virtual participation. The center's programs include mindfulness based stressed reduction, mindful self compassion and compassion cultivation training.
The Innerwork Center is hosting "Coming HOME: Begin Within (A Sacred Space for Black & Brown People), noon to 1 p.m. Saturday, Dec. 11, at the Richmond Public Library Main Library, 101 E. Franklin St.
"This sacred moment will focus on RE-membering who we are, while engaging in self- care tools for the holidays. We are returning to our roots and reclaiming the foundations of our culture," Ms. Battle says.
Details are available on the nonprofit's website: innerwork-center.org/programs.
While the center's approach to community betterment is unique, Ms. Battle acknowledges that The Innerwork Center can't do everything.
"We can continue to do the outer work, but we must not let it limit us from what is going on inside ourselves," Ms. Battle says. "While it is true that we must address our collective challenges, it is also true that the journey starts within. And the best place to start is right where you are."
Meet an insightful leader, advocate of mindfulness and this week's Personality, Sheila E. Battle:
No. 1 volunteer position: Board president of The Innerwork Center.
Occupation: Principal consultant, The Battle Station; and division of finance and administration, Virginia Department of Housing and Community Development.
Date and place of birth: Feb. 6 in Philadelphia.
Where I live now: Chesterfield County.
Education: Master's in human services counseling.
Family: Trinity and Zayin Battle are my heart split in two. Frank Battle is the gentle force that holds my heart together.
The Innerwork Center is: A small but growing nonprofit in Richmond offering opportunities to explore mindfulness, creative expression, psychology and wisdom traditions.
No. 1 goal as board president: To represent this powerful resource to our city and extend an invitation to learn, grow and heal together.
How I plan to accomplish this goal: By sharing my personal experience with this organization and connecting the dots for those who are unaware of or curious about what we offer.
What it means to do inner work: Innerwork is the intentional act of going beneath the surface of areas of this life. Of exploring our interior landscape and identifying what drives our thoughts, desires and behaviors. Of discovering and recovering parts of ourselves that need attention. We offer an opportunity to dive in and explore what matters most so we can bravely do the work that nurtures our souls. Doing so ripples out into the community and creates a more compassionate city for all of us.
The Innerwork Center and racial equity: We are creating an organizational culture where everyone feels welcome to be their true selves. We recognize this cannot happen without explicit effort from our staff, board, faculty and volunteers. As an organization, we accept the responsibility of exploring and creating culturally competent and inclusive programs that hold our differences and our common humanity with both hands. Our trauma-informed facilitators are trained to create and hold space for difficult conversations. This ongoing process involves bringing in keynotes, speakers such as Ruth King and Dr. Larry Ward. These events allow us to gather diverse community leaders who are collectively working toward a more racially equitable community.
What inner work Richmond needs to do: Continue pushing for all Richmonders to begin within, knowing that we will always find truth and healing within the deeper parts of ourselves to better serve each other and heal our city.
The Innerwork Center is for: Everyone and anyone who feels they need to enhance their self-care and spiritual practice. We welcome everyone who is seeking more resources to add to their inner wellness toolkit. We are here to teach and support them in their journey.
A perfect day for me: Our home is affectionately referred to as The Battle Station. Any day when the Battle Station is filled with family, friends and food, my heart overflows.
What I am learning about myself during the pandemic: That my inner witness has more wisdom than outer influences. I just need to tap in.
How I quiet my mind during challenging times: My primary spiritual practice is 15 Minutes of Grace. Solitude has been my greatest helper. No matter what is going on, foresight, insight and lessons to learn in hindsight are waiting for me in the silence. I have trained my soul to sit down and listen.
Three daily self-care tips: 1 — I practice 15 Minutes of Grace every day. 2 — Gratitude is my recovery strategy no matter what! 3 — I embrace moments of awe and wonder and savor them.
Something I love to do that most people would never imagine: I love it when I get to fade into the background unnoticed so I can observe others undetected or cheer for them ferociously! When you're 6 feet tall and a speaker, people tend to believe that you always crave attention. For me, that is simply not true.
Quote that I am inspired by: "Caring for myself is not self-in- dulgence. It is self-preservation, and that is an act of political warfare." — Audre Lorde
"If I didn't belong to you, I wouldn't be here. If you didn't belong to me, you wouldn't have come. I am you and you are me, yet we forget this truth. My liberation is tied to your liberation and your liberation is tied to my liberation." — Ruth King
My friends describe me as: An intuitive listener who has never met a stranger. They also think I'm a global level Auntie. I adopt everybody!
At the top of my "to-do" list: Play regularly. Read leisurely. Write freely. Listen effort- lessly. Pray endlessly. Rest consistently and to intentionally breathe deeply as often as the day demands.
Best late-night snack: Orville Redenbacher's Movie Theater popcorn with Texas Pete hot sauce.
Best thing my parents ever taught me: Book sense, without common sense, is a disaster waiting to happen.
Person who influenced me the most: My parents, Edward and Joann McCarr. They were trailblazers in ways that I didn't realize at the time. Even as ancestors, they are still teaching me new lessons and influencing how I move in the world.
Book that influenced me the most: It is absolutely impossible for me to pick one book. Ask anyone, my home is a library. But right now, Toni Morrison and I are falling in love again.
What I'm reading now: "You Belong: A Call for Connection" by Sebene Selassie; "Sula" by Toni Morrison; and "Soul Feast" by Marjorie J. Thompson.
Next goal: To finish writing my second book, "The Emotional Wellness Toolkit," and plan a romantic getaway with my amazing husband so we both can take a nap!