Charles Leno's durable tackles, high rankings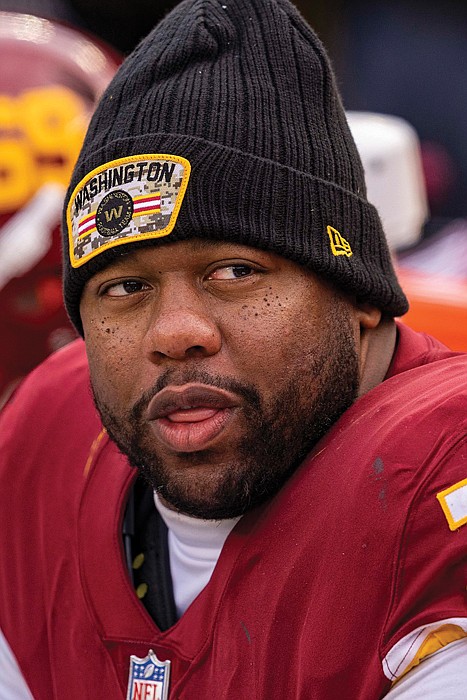 If Washington Commanders quarterback Carson Wentz is to be safe and successful in his first season in Washington, Charles Leno Jr. might be a top-of-the-list reason why.
As the returning left tackle, Leno has Wentz's back – literally. It's the left tackle that protects the blindside of a right-handed QB.
"That's what we get paid for," Leno told the team's in-house publication Take Command.
The less grass stains on Wentz's uniform, and the less aches in his bones, the better it will be for The District.
The newly named Commanders had one of the NFL's most effective offensive lines a year ago, and expectations remain high for 2022 despite the loss of former All-Pro guard Brandon Scherff (now in Jacksonville).
Speaking for the entire group, Leno pointed to its mix of talent.
"We've got a great mix," he said. "We've got veteran guys, young guys, tough guys and athletic guys."
The 6-foot-3, 303-pound Leno qualifies for all the above adjectives, except perhaps "young." At 30 the former Boise State University (2009-2013) and Chicago Bears (2014-20) blocker is the unit's graybeard.
Wearing No. 72, Leno ranks with the NFL's most durable and highly-rated tackles. He was the lone lineman to start all 17 games last year for Washington.
Further proving his "iron man" image, Leno has not missed a game with an injury since 2015.
As for efficiency, consider:
• Lining up for 1,062 snaps, he allowed only six sacks and, amazingly, was flagged for just one penalty.
• Leno's 81.2 percent grade on passing plays ranked 12th among all tackles, according to Pro Football Focus.
• Overall, the Washington line ranked sixth best in tge NFL for runs and pass blocking combined.
This is uplifting news to Wentz, who was obtained from Indianapolis during the offseason. Wentz has size (6-foot-5, 237 pounds), a rocket arm and a solid résumé (140 career touchdown passes), but isn't known for his mobility in the pocket.
The former first round draft choice fell into disfavor in Indianapolis and Philadel- phia before departing. Leno & Co. hope to restore his confidence.
Gone from the 2021 offensive line is Scherff and left guard Ereck Flowers, who was released in March.
Returning to join Leno up front will be Sam Cosmi (right tackle), guard Wes Schweitzer and center Chase Roullier.
Others in the mix are newcomer Trai Turner (who signed in May), Cornelius Lucas (oft-used backup in 2021) and Saahdig Charles (drafted out of LSU by Washington in 2020).
Once he returns from injury, tight end Logan Thomas (out of Virginia Tech) is among the best in the business as a blocker and receiver.
While Leno earns respect for his rugged play on the gridiron, he's a proven softie off it.
While in Chicago, the former seventh round draft choice initiated two programs for children. In January, 2021, while still with the Bears, Leno won the NFL's Community MVP Award.
He's brought a variation of both charitable foundations to Washington.
"Leno Claus" brings Christmas joy to many, while "Beyond the Entertainer" is geared toward assisting kids through hard times, primarily pediatric cancer. In D.C., he has partnered with "The Hogfarmers."
"The Hogfarmers" are a spinoff of the Hogettes, men who wore dresses, garden-party hats and pig snouts to games in tribute to Washington's famous "Hogs" offensive line of from early 1980s to early '90s.
Washington won three Super Bowls (1983, '87, '91) with the "Hogs" paving the way.
Leno doesn't merit Hog status ... not yet. But the better he guards the blindside, the more wins the Commanders will deposit in the piggy bank.