Richmond Folk Festival returns in October
Holly Rodriguez | 8/18/2022, 6 p.m.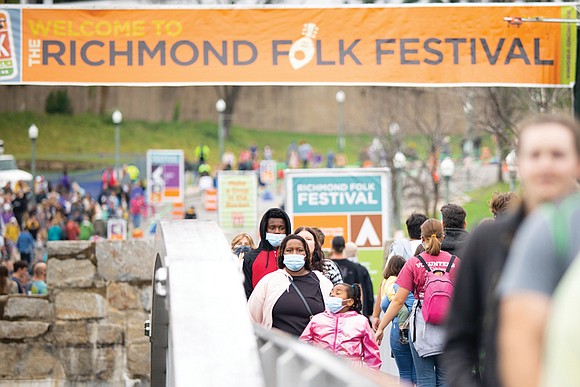 The Richmond Folk Festival, an annual free, three-day event celebrating the diversity of American culture through music and dance performances, will take place Oct. 7-9 on Brown's Island in Richmond.
In its 18th year, the festival will include 30 musicians and dance groups performing on six stages. Several new, first-time artists will premiere eight cultural traditions that never have been presented at the festival. The music and dance program this year ranges from bluegrass to hip-hop to zydeco. Other features of the festival include demonstra- tions, an interactive family area produced by the Children's Museum of Richmond, handmade crafts, merchandise for sale and food vendors.
About 200,000 people are expected to attend the event during the weekend. The schedule is: Oct. 7, 6:30 p.m. - 10 p.m., Oct. 8 12-9:30 p.m., and Oct. 9, 12-6 p.m. Parking is available near the festival site and, although shuttles will not be provided this year, several GRTC bus routes will offer free rides to the riverfront.
Presented by Venture Richmond Events, the festival is presented in partnership with the National Council for the Traditional Arts (NCTA), the Virginia Folklife Program, the Center for Cultural Vibrancy, Children's Museum, and the City of Richmond.
For more information, visit https://www.richmondfolkfestival.org/.