America's diverse roots, richness and culture mark this year's Richmond Folk Festival

Mark your calendars.
The 18th edition of the three-day Richmond Folk Festival is almost here.
This year's musical extravaganza will showcase 28 acts from across the country and around the world on six stages from Friday, Oct. 7, through Sunday, Oct. 10 on Brown's Island and nearby sites, according to the list of artists the festival has posted on its website, www.RichmondFolkFestival.org.
Four Richmond-based performers made the list, according to organizers who describe the big event as a celebration of the "roots, richness and variety of American culture through music, dance, traditional crafts, storytelling and food."
They include veteran hip-hop DJ Lonnie B and the gospel-inspired Legendary Ingramettes.
Lonnie B is slated to be the final act 8:15 p.m. Saturday at the Dominion Energy Dance Pavilion; while the Ingramettes, founded by the late Maggie Ingram, will perform 5:30 p.m. Sunday on the Center for Cultural Vibrancy Virginia Folklife Stage.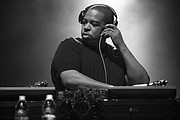 Other Richmond acts include the gospel group Ken Heath and the True Disciples, who will appear at noon Saturday on the Cultural Vibrancy Virginia Folklife Stage and blues harmonica performer Andrew Alli who will partner with blues guitarist Josh Small at 1:30 p.m. Sunday on the same stage.
A wide range of other performers also will be making appearances at the event that Downtown booster group Venture Richmond stages in partnership with the National Council for the Traditional Arts, which promotes folk and traditional arts and launched the initial festival for this area in 2005.
There will be appearances from the 79ers Gang showcasing New Orleans Black Masking Carnival music and from Andre Thierry, a top performer of West Coast zydeco.
Black Umfolosi will perform a cappella songs from Zimbabwe while Felipe Hostins will present Brazilian Forro.
Cedric Burnside, the opening act Friday night, will present Mississippi hill country blues, while Jimmy "Duck" Holmes will present Bentonia blues and Fran "Lady Strings" Grace will serve up sacred steel guitar music.
The schedule also is to include musical offerings from Alba- nia, India, Mauritania, Mexico, Morocco, the Netherlands and Venezuela as well as Native American ritual dance and a tribute to retiring world champion oyster shuckers Deborah Pratt and Clementine Macon Boyd, both of Middlesex County.
Roots-rock, bluegrass and other traditional American music also will be presented, the schedule shows.
In addition, the Virginia Folklife area also will present demonstrations and workshops featuring 11 different instrument makers, two fiberglass sculptors and a storybook artist.
And the Children's Museum will have a family area with themed zones featuring bag hats, hand painting and balloon artists, plus a creation zone where anyone can contribute to a joint art project and a separate activity zone where children can run an obstacle course or show off their talents.
The festival will operate from 6:30 to 10 p.m. Friday, noon to 9:30 p.m. Saturday and noon to 6 p.m. Sunday, organizers stated.
Ranked among Virginia's largest annual events, the festival is underwritten by 36 organizations, including the City of Richmond, businesses, nonprofits and other governmental entities.