'Truth Tellers' chronicles careers of 24 Black women journalists since 1960
A new book calls attention to the Black women editors, columnists and reporters who have brought change since the Civil Rights Movement to the previously mostly male and mostly white newsrooms of mainstream news outlets.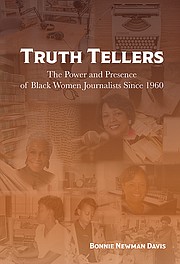 Bonnie Newman Davis, a career journalist and current managing editor of the Richmond Free Press, is turning the spotlight on 24 women who have made a difference – women such as Dorothy Butler Gilliam, retired Washington Post reporter and Diane Walker, who retired last year from Richmond's NBC 12 after 40 years as a news anchor and "12 On Your Side" investigative reporter.
Ms. Davis formally released her new book, "Truth Tellers, The Power and Presence of Black Women Journalists Since 1960," on Nov. 27, at The Common House in Downtown.
"I hope to help people realize how much Black women have brought to journalism. I want to open the eyes of readers, expose them to the strength that women have shown and to help them see the importance of our stories," said Ms. Davis, who self-published the 256-page book.
She said she also hopes the work "will provide guidance and inspiration" to young women considering journalism careers so they will understand what those who came before them "went through and the challenges and struggles they faced."
In her foreword, Ms. Davis describes the book as "truly a labor of love." She wrote that the two dozen women she presents "may or may not be familiar," but she noted that "their stories are engaging, endearing and ... full of surprises" about the roles they have played in delivering the news.
Now 65, Ms. Davis is a North Carolina native who grew up in Greensboro and graduated from North Carolina A&T State University, the historically Black school based in the city.
After interning at newspapers in Wilmington, N.C., Ann Arbor, Mich., and Louisville, Ky., and completing graduate school at the University of Michigan, she began her full-time career at the Richmond News Leader in 1981, becoming one of the Richmond daily's first Black women reporters.
She was involved in the coverage of the notorious Briley brothers after their escape from prison in 1984, and wrote about two young sisters who were diagnosed with muscular dystrophy and ultimately died from the disease. As a business reporter, she wrote about the workplace and Richmond's growing health care industry. As an arts reporter, she interviewed Nikki Giovanni, Paule Marshall, Cornel West and Henry Louis Gates Jr. When covering New York fashion shows, she sat among Anna Wintour, Naomi Campbell, Tyra Banks, Spike Lee and even Jacqueline Kennedy Onassis.
After the News Leader and the Times-Dispatch merged, Ms. Davis rose to editor of the Arts and Entertainment section.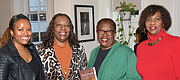 After leaving the newspaper in 1999, she briefly handled Virginia Union University's public relations and then went on to teach journalism at Hampton University, Virginia Commonwealth University and the University of North Carolina at Chapel Hill. She also was an endowed professor of journalism at her alma mater, N.C. A&T.
The mother of licensed clinical social worker Erin D. Stanley, Ms. Davis, who is the widow of Richmond Public Schools educator William H. Davis, has spent much of her time in recent years as an adjunct professor, freelance writer, writing "Truth Tellers" and running her nonprofit media institute. She was named Free Press managing editor in late May.
Finishing the book and getting it published "is a relief," Ms. Davis said. "It's a wonderful feeling to have started something and brought it to the finish line."
"Truth Tellers: The Power and Presence of Black Women Journalists Since 1960" is available by visiting http://www.bonnienewmandavis. com/the-book/