An evening on Mount Kilimanjaro
Holly Rodriguez | 12/8/2022, 6 p.m.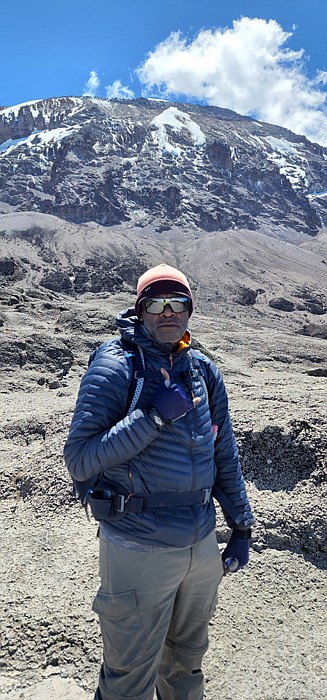 When Robert Dortch Jr. was returning to the United States after reaching Uhuru Peak, the highest point of Mount Kilimanjaro, a customs agent at the airport in Tanzania asked him why he'd been visiting the country.
When Mr. Dortch replied that he'd climbed Mount Kilimanjaro, the world's highest free-standing mountain at 19,341 feet, the agent did not believe him. She demanded that he show her the certificate given to anyone who endures and completes the journey.
When Mr. Dortch produced the certificate, the customs agent was so elated that she ran from one colleague to the next, showing them proof of his once-in-a-lifetime pilgrimage.
Several weeks after Mr. Dortch returned to the United States, he shared his journey in a Nov. 3-5 Free Press article, "Reaching the peak."
About 300,000 people climb the mountain each year, and Mr. Dortch's guide, Emmanuel Kimaro, said fewer than
30 are Black and Brown people. The journey is so rigorous that some people have to turn back before reaching Uhuru due to altitude sickness. Approximately 10 people a year die on the mountain when trying to complete the climb.
As one of the few African- Americans to achieve such a feat, Mr. Dortch said word spread among other climbers about "The Black American" who made it to the top of the mountain.
Mr. Dortch's eight-day climb up Mount Kilimanjaro was filled with daily and sometimes brutal challenges. His ability to tackle them all is scheduled to be discussed 6 p.m. Thursday, Dec. 8, at the Black History Museum and Cultural Center of Virginia. Artifacts from his journey will be displayed, along with dozens of images that he photographed during his climb.
Kym Grinnage, regional vice president of Gray Television and general manager of Richmond's WWBT-NBC12, will interview Mr. Dortch.
Uhuru Peak is a long way from Creighton Court, where Mr. Dortch and his family lived for two years before his father purchased the family's first home in Blackwell.
"It was a different place back then," he said in a telephone interview with the Free Press. "Dirt roads and blackberry bushes." He said he remembers the family having a basketball hoop, and feeling the rooms of the house were so big.
The father of two is a graduate of Meadowbrook High School and a first-generation college graduate who earned his bachelor's in business administration at James Madison University, and master's of divinity degree from the School of Theology at Virginia Union University. Among his many titles are entrepreneur, executive coach, ordained minister, poet and, obviously, adventurer. More than once his "adventurer" moniker has raised eyebrows among his family members.
Mr. Dortch said he often is asked why he decided to climb Mount Kilimanjaro.
"Because I can," is his response.
In sharing his story, Mr. Dortch said he hopes he can inspire other African-Americans to not give up on their goals and dreams. He plans to discuss how he had to learn to trust the team supporting him, how his experience growing up in Richmond helped him face adversity on the mountain, and how he had to adapt and the resilience required to do all of it.
"As Black people, we work so hard serving others, a lot of times we miss out on life," he said. "My hope is that this will inspire others."