Reaching the peak
Robert Dortch's pilgrimage to Mount Kilimanjaro
Charles Taylor | 11/3/2022, 6 p.m.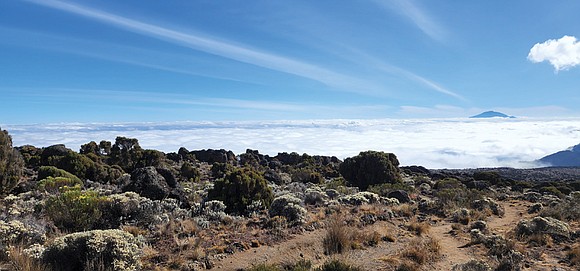 Richmonder Robert Dortch Jr. is a man of faith. So he was pleased to learn that his guide up Mount Kilimanjaro was named Emmanuel. In the Bible, Emmanuel means "God with us."
On Aug. 22 at 11 a.m., Mr. Dortch, along with Tanzanian guide Emmanuel Kimaro, reached the summit. Uhuru Peak tops out at 19,341 feet. Kilimanjaro is Africa's tallest mountain.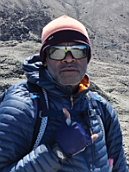 "I'm humbled and honored by this moment and what this experience can mean for me, for my sons, my family and hopefully, Black people. That we can dream a different kind of dreams," he wrote in his journal the next day.
And with that, Mr. Dortch joined a small but growing number of Black American explorers ever to have scaled the world's highest peaks. In May 2022, a group of seven African-American climbers summited Mount Everest in Nepal, becoming the first group of its size to do so. Their feat doubled the
number of Black people who had ever summited Everest. "Very few African-Americans come here for the journey like this," Mr. Kimaro, 40, said via email. "We lead about 30 Kilimanjaro groups a year, but only one or two groups will consist of an African-American or a black person of any other nationality."
Mr. Dortch is even rarer. Of Mr. Kimaro's typical clientele, only about 10 percent come solo, and he's been a mountain guide for more than 15 years.
Day 1 of Mr. Dortch's eight-day journey began at Lemosho Gate, the start of one of the longest routes up Kilimanjaro. It was there that one of the locals greeted him, saying, "You're home, brother. You're home."
Mr. Dortch said it brought him to tears then, and it nearly did again as his voice broke with emotion while recounting the experience recently. That day would bring a four-hour hike before making camp that night. It was one of his toughest days that week.
Kilimanjaro is considered a "walk-up" mountain because trekkers don't need equipment like ropes, harnesses or ice axes. But it's no less treacherous due to the risk of high-altitude sickness, which can be fatal. According to the Kilimanjaro National Park Authority, says Mr. Kimaro, about 60 percent of those who attempt to reach the summit are successful.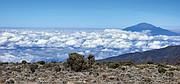 Mr. Dortch began training for the expedition last May. He worked out regularly about five days a week for 45-60 minutes at a time, he explains, focusing on cardio to build stamina and endurance, free weights for strength and yoga and stretching to maintain flexibility.
Still, his first day on the mountain was taxing. Mr. Kimaro told him "pole pole" (pronounced poh-leh poh-leh in Swahili): "Slow down, you're going too fast!"
That first night at Big Tree Camp, "I'm hearing the sounds, the monkeys. It's below freezing," Mr. Dortch recalls. "I'm awake the entire night."
He hadn't taken Mr. Kimaro's advice to camp outdoors back in "the States" before taking on this challenge – and regretted it in hindsight. A crew of seven, including guides, a cook and porters, were not far away.
Feeling increasingly isolated, he needed to make "some kind of connection." "I can't receive information. I can't give information. I'm up in that tent far away from home. What am I doing here?" he remembers asking himself. He reached for a smartphone he'd brought to use as a camera. To his surprise, he was able to listen offline to music from his Pandora subscription: Lauryn Hill, Donald Lawrence, Anthony Hamilton.
"It spoke to my spirit. It was familiar, and it was comforting to me and affirming," he explains, especially Mr. Lawrence's gospel music. It helped to refocus on his purpose.
Mr. Dortch, 56, is a bit of a renaissance man. He's a philanthropist, certified executive coach, father of two adult sons and a photographer/artist. He formerly was senior minister at Shiloh Baptist Church in Chesterfield County for a decade, and was interim pastor at another church in the county.
His son, Malcolm, 25, isn't surprised by his father's sense of adventure. He's biked down Pike's Peak in Colorado with his dad. But one night on the mountain, Mr. Dortch was able to reach his eldest son by mobile phone. They spoke for about 10 minutes.
"I was surprised to hear his voice," Malcolm Dortch said. "To be honest, I was excited, but then I was also a little alarmed. He was a little emotional, and he was saying it's the hardest thing he ever did. He was crying a little bit."
That wasn't unusual. "My sons have seen me cry," Mr. Dortch says, noting that those tears involved joy or sorrow. They'd never seen him cry about "something being hard and challenging."
Days later, his last night of hiking began around 2:30 a.m. "All you could see in the darkness was the headlamps from everyone trekking up the mountain," he recalls.
His guides, Emmanuel and John, started singing. "And even though they were singing in Swahili, I knew they were singing spirituals and it made me smile," Mr. Dortch says. At about 6:30 a.m., he turned around and saw the "most beautiful" sunrise. "I took a picture in my mind and kept moving."
Soon, he began to see some people turning back, unable to make it to the top. "I was sad for them because I knew it must have hurt," he says. Blood-stained cloths from nosebleeds littered the ground.
"Breathing was hard. Emmanuel kept saying 'breathe and pole pole.'"
As Mr. Dortch approached the summit, others who had preceded him were still lingering. "Then the crowd started leaving, and the (African) guides hugged me and said, 'We're proud of you brother!" Those words brought more tears, and yet they encouraged me."
Andrew Alexander King, a California-based Black explorer and CEO of The Between Two Worlds Project, has climbed Kilimanjaro twice. "You rarely see a person of color or a marginalized community standing on a summit and getting the publicity or notoriety or accolades with it," he says.
Costs can be a barrier to such excursions, he adds, noting that often, climbers – such as some who have summited Kilimanjaro and Everest – have sought sponsorship for their expeditions.
And what is the cost? Mr. Dortch isn't specific about Kilimanjaro but allows that a trip like his – which also included a three-day safari in Serengeti National Park – can range from $6,000 to $10,000.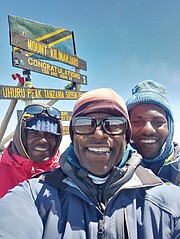 Eight days on Kilimanjaro can forge strong bonds – the trust involved, the complete surrender to virtual strangers. Since Mr. Dortch's expedition, he and Mr. Kimaro have kept in touch via Messenger, WhatsApp and email, the guide says. They've become friends.
"Robert was curious to know more including the social and economic perspectives, and he had time to talk to the crews," Mr. Kimaro says. "His attitude toward others is something I will never forget."
Rather than go through some faceless company, it was important for Mr. Dortch to connect directly with an African entrepreneur like Mr. Kimaro, whose African Golden Expeditions is among a handful of Black-helmed businesses providing such services. He recalls telling Mr. Kimaro, "I'm not here to get a deal. While I want to do this, it's important to be able to support what you're doing."
Meanwhile, he's passing these same values along to his sons, Malcolm, and 22-year-old Solomon.
"I will always support you in living and carrying out your dreams," Mr. Dortch says of the lesson he's passing on. "The dreams that are inside of you, whatever they may be. Everybody has a mountain."
Mr. Dortch will discuss his Mount Kilimanjaro journey on Dec. 8 at the Black History Museum and Cultural Center of Virginia. To register, visit
https://events.r20.constantcontact.com/register/ eventReg?oeidk=a07ejg65t2xce20a604&oseq=&c=&ch=
Charles Taylor is a freelance writer formerly based in Richmond.