Jackson State lands another top football prospect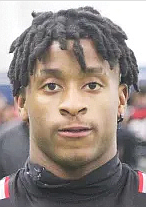 Jackson State University football Coach Deion Sanders has landed another top prospect.
Kevin Coleman, a wide receiver from St. Louis, committed to Jackson State last week following the U.S. Army All-American Bowl in San Antonio.
Coleman turned down offers from the University of Alabama, Florida State University, University of Oregon and University of Southern California to join Coach Sanders' SWAC program in Mississippi.
Last month, Coach Sanders made headlines signing cornerback Travis Hunter, the nation's top-ranked recruit.