Judge rules pastor improperly fired church trustees, finance committee chair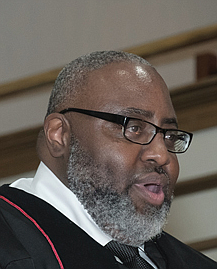 A Richmond judge ruled Tuesday that the pastor of historic but embattled Fourth Baptist Church in Church Hill acted without proper authority when he fired six members of the church's Trustee Board and the chair of the Finance Committee 19 months ago.
Siding with the ousted plaintiffs who had sued Dr. William E. Jackson Sr., the pastor, and other church leaders, Judge W. Reilly Marchant also ruled that any further attempt to remove those officials would need be handled under court supervision.
He notified both sides that if another attempt is made, he would appoint a special commissioner "to direct and oversee a properly noticed and conducted meeting, according to the governing documents, where the termination of the plaintiffs" could be considered.
Last April, Judge Marchant reinstated the church officers who were removed until he heard evidence and issued a final decision. His ruling caps 15 months of litigation that began in March 2020 after the pandemic hit.
Dr. Jackson found himself at odds with the trustees, who objected to his effort to continue paying part-time employees when the church was shut down under state orders during the coronavirus outbreak. The main issue in the lawsuit involved a special virtual church meeting held June 8, 2020, to settle the matter.
After a five-hour session, a combined motion to pay the part-time employees and fire the objecting trustees and finance chair passed 46-24, or two votes short of a required two-thirds majority. Dr. Jackson, nonetheless, used the vote to oust the trustees and finance chair.
In his 13-page opinion, Judge Marchant agreed with the plaintiffs' attorney, William F. Seymour IV, that Dr. Jackson and the six deacons pushing for the removal did not provide proper notice of the meeting as required by the church's constitu- tion and bylaws.
Judge Marchant also found the vote did not meet the standards laid out in Roberts Rules of Order, the third document the church uses, as Mr. Seymour had argued.
As a result, the vote did not cloak Dr. Jackson with the authority to proceed with removal, Judge Marchant ruled, because an insufficient number of church members voted in support of their ouster.
The lawsuit has divided the church, which was founded before the Civil War in 1859 and is now struggling, like many mainline churches, to attract younger members. According to the church rolls, the average age of the 356 members listed is 70.
The lawsuit also has taken a financial toll. According to documented information the Free Press has obtained, the church has remained closed because its insurance provider canceled its liability coverage after paying a $25,000 claim the church filed to cover legal expenses in defending the firings.