'Being underestimated ... that's my superpower'
Democratic House Minority Leader Don Scott Jr. ready to energize base
Lisa Vernon Sparks | 7/14/2022, 6 p.m.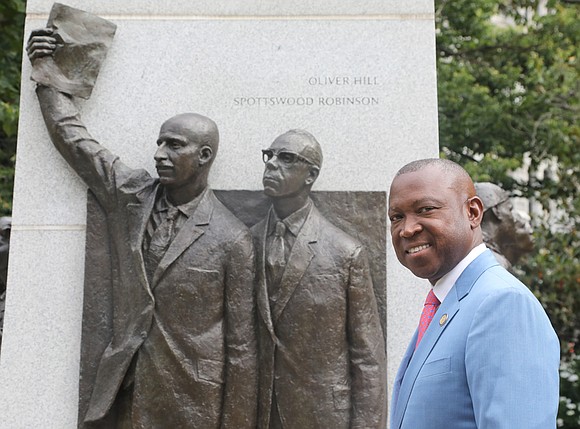 These days Delegate Don L. Scott Jr. doesn't spend as much time in the courtroom as he used to.
A criminal defense lawyer by trade, the Portsmouth Democrat recalls days with a packed calendar, filing motions and multiple court appearances to pursue justice for his clients.
But that's changed for him. As for taking new clients, he prefers the less intensive personal injury cases and will be scaling back on his defense practice, he said recently.
It's with good reason. The Virginia legislator representing the 80th House District has plenty on his plate now — and much more to consume in his new role as the House of Delegates minority leader.
Voted in by the Democratic caucus June 1, Delegate Scott led the charge to oust former House Minority Speaker Eileen Filler-Corn, who represents the 41st House District in Fairfax. It was a close count, but nonetheless a majority of the 48-member caucus voted to remove Delegate Filler-Corn from her post. In an April 24 statement that Delegate Scott addressed to the House Executive Committee, he called for "a vote of the removal of the officers in the Leader and Caucus Chair roles." Delegate Scott nominated himself as the member to replace Delegate Filler-Corn.
Delegate Scott, a two-term legislator first elected in 2019, declined to comment on what led up to the no-confidence vote to remove Delegate Filler-Corn, other than saying, "my peers recruited me and chose me and selected me to be the leader of the caucus knowing that I've only been there for roughly one-and a-half sessions now," and that Delegate Filler-Corn, "did a great job ... when she was (the) speaker."
Attempts to reach Delegate Filler-Corn for comment were unsuccessful.
Delegate Scott now enters a political landscape in the aftermath of the 2021 November election, when seven seats went to Republican candidates and shifted the balance of power in the House chamber. Adding to that defeat and much to the Democrats' ire, Republicans also swept the three statewide seats, including the spot now held by Gov. Glenn Youngkin.
Until the next election cycle for the House, Delegate Scott knows he has much to unpack in this role, among them to "do things that will energize our electorate," he said, "ideas and the things that I am fighting for.
"I came into the House because of my life experiences, talking about fairness, talking about how do we make the system work for everyone. I have been able to overcome a great deal of adversity," he added.
The 57-year-old Houston native, husband and father is the first Black legislator to serve as the House Minority Leader. He could ascend to the Speaker role if the Democrats regain control in 2023. His well-known ebullient presentations and presence in the courtroom prepared him well for the rigors of the General Assembly – something the novice legislator demonstrated during an impassioned House floor speech he gave on Jan. 26.
The now-infamous speech questioned Gov. Youngkin's Christian faith and accused him of sowing division because of the executive orders the governor signed during his first few days in office. Some orders included a ban on teaching any "divisive concepts," a ban on critical race theory, for creating a parents' tip line and using race overall as a political tool.
"I understand you found a winning issue, critical race theory, once again using the old southern strategy to use race as a wedge issue," Delegate Scott said on the House floor in January to the entire chamber.
"I am going to implore us to stop using Black people and critical race theory as a political tool and start governing."
A subsequent speech after meeting with Gov. Youngkin to discuss the previous speech also helped set the stage for Delegate Scott's unlikely rise to leadership, but the delegate unwittingly has been building on this moment for years. Delegate Scott's life journey has taken him from abject poverty in Texas to the analysis-driven environment at a Louisiana law school. But a miscalculated decision on his part in 1994 landed him in a cold prison cell for seven years on federal drug charges.
Yet, that experience and story, first reported in the Virginian-Pilot, has enhanced his reputation among his peers, with fellow Democrats believing his life path helped to make him the right man, at the right time, for this job.
"I think what you've seen since the election, and 2021, and up until today, is really what amounts to a cultural war, everything from critical race theory to the charter school debate, the gun violence reduction, debate, the woman's right to make her own choices," Delegate Jeff Bourne, D-Richmond, said.
"It's particularly acute and specific here in Virginia. I think Don is the type of leader that is going to meet those challenges head on," Delegate Bourne said.
Delegate Mike Mullin, D- Newport News, has worked closely with Delegate Scott, especially on the Court of Justice Committee.
"He's shown incredible leadership and floor presence...to also include his comments in committee as well," Delegate Mullin said. "He is a tenacious fighter for people that he feels are underserved or left out of government."
Delegate Mullin added that what makes Delegate Scott the right leader for the caucus is his ability to navigate and balance the differences among the 48-member chamber.
"Trying to keep a whole caucus of individuals together is a tough job. The biggest differences in the House of Delegates aren't partisan lines. They're regional ones," Delegate Mullin said, noting Northern Virginia has different issues than Hampton Roads.
"I think that Don (is) very, very good at being able to balance disparate personalities and needs of all of us in the caucus and give voice to a 48-person chorus."
Soon after Delegate Scott received the go-ahead to lead the Democratic caucus, a few Republican legislators tweeted unflattering remarks on social media about him, his background and former incarceration. Delegate Scott appears undeterred by this. They are rallying cries for him.
"People have always told me, based on where I was from, or based on something that hap- pened 20, 30 years ago, what I couldn't do, what I can't do, what I'm not allowed to do, or even think about doing," Delegate Scott told the Richmond Free Press. "I've often been overly underestimated. That's my superpower, being underestimated."
Texas roots
One of seven children, with siblings from both his mother's and father's sides, Delegate Scott said his parents divorced when he was little more than a toddler. Growing up and being raised by his mother, he recalls some complicated and lean times, makeshift meals, even days when he came home and the electric power was out.
"My mother had to make some decisions," he said. "Yeah, we would eat sandwiches with ketchup, sandwiches (with) whatever you could put between some bread."
Scott said he spent many summers in Jasper, Texas, visiting other relatives. Compared to his native Houston, Jasper was a place where the racial lines were more distinct, but mostly people stayed "in their own lane," he said.
During the remaining parts of the year, Delegate Scott lived in the city with his family and attended Houston Public Schools, but a chance aptitude assessment he took as a 9-year-old opened doors for him.
Despite trouble with speaking and articulating as a child, school officials identified him as a gifted learner. He was transferred to another school district — River Oaks Elementary — in an affluent area in Houston.
"I went from a place of abject poverty, to catching a bus (and) going to great wealth," he said. "My school was literally across the street from what I felt were mansions."
Delegate Scott was 12 when he finally met his father, a graduate of Prairie View A & M University who served in the Air Force and was an engineer with the Department of Defense. He had a new family, Delegate Scott said. They lived in San Antonio. They seemed wealthy to Delegate Scott, because "the house (was) full of food." The encounter again, was another pivotal moment in his journey.
Despite not living there, he saw himself in his father and more.
"I probably was even more committed to proving to him that I was going to be successful," he said.
Delegate Scott studied hard and continued to attend schools that offered programs for the gifted. He went on to earn a degree in agriculture from Texas A&M University, located not far from the college his father attended. Following in his dad's footsteps, Delegate Scott entered the military, the Navy, and became a surface warfare officer.
More hard work led to law school at Louisiana State University, but by the time his final year arrived, his dream of becoming a lawyer nearly went up in flames. Delegate Scott made a poor decision that involved him in an illegal drug transaction. He was arrested in Alabama. According to court documents, the law student pleaded "no contest," to conspiracy to possess cocaine, with intent to distribute. Instead of a lesser sentence that he'd been led to believe he would receive, the plea landed him in a Texas federal prison.
Sentenced for 10 years, but serving only seven, Delegate Scott made the best of an impossible and life-derailing situation. While incarcerated he used his legal skills ( he actually learned he had passed the Texas bar exam before going to prison) to help others. He learned other lessons that made permanent impressions on him.
"I tell people, I went to prison, and I was there. And I saw very, very bright people who needed a chance, an opportunity ... to get back up," Delegate Scott said.
After being released, the road back and re-entry into society was challenging. But Delegate Scott persevered, lived with relatives in Delaware, took odd jobs and ultimately landed work in 2002 at a workforce development firm, according to his personal website.
Several years later, after moving to Portsmouth, Delegate Scott received the green light from state officials to continue with his law career and opened an office in 2015 after being admitted to the Virginia State Bar.
Legislation goals
Since becoming a Virginia lawmaker in 2019, Delegate Scott's legislative priorities have included creating policies to assist people economically, something he did when he served on the Portsmouth Economic Development Authority.
"This is one of the wealthiest countries in the world," Delegate Scott said. "How do we create (policies) where everybody can participate? There is a cost to not having everyone participate. You don't get your best product."
Other legislative goals are criminal justice reform, an area in which Delegate Scott has gained some traction in recent sessions. His experience in prison gave him insight into creating policy that could really make a difference in someone's life. To that end, Delegate Scott sponsored a measure for parole reform, House Bill 2167. The bill places a five-year cap on probation for felonies, plus a one-year maximum for misdemeanors, among other benefits.
His other major legislative highlight, House Bill 5148, reforms to the earned sentence credit, established a four-level classification system to award and calculate earned sentence credits.
"If someone is in prison for a long time, and they're doing everything right, we should be incentivizing them to be the best version of themselves when they're released," he said.
"We have a society that stigmatizes folks forever. And I wanted to fight to be a part of removing this stigma."
Delegate Scott said he has no immediate political ambitions beyond the Virginia legislature. For now his only aspiration, he said, is to "make good policy in the Commonwealth."
The biggest challenge for him with his job now, he said, is the balancing act between work and family — including his wife, Mellanda Colson-Scott, a dentist, and his 13-year-old daughter. The most surprising thing about being a legislator is that it's supposed to be a part-time job. It's not, he said.
"I'm doing something every day for at least four or five hours related to my position as a legislator, even when we're out of session," Delegate Scott said. "It does not end."