Lakers' new head coach once made headlines for his moves in Richmond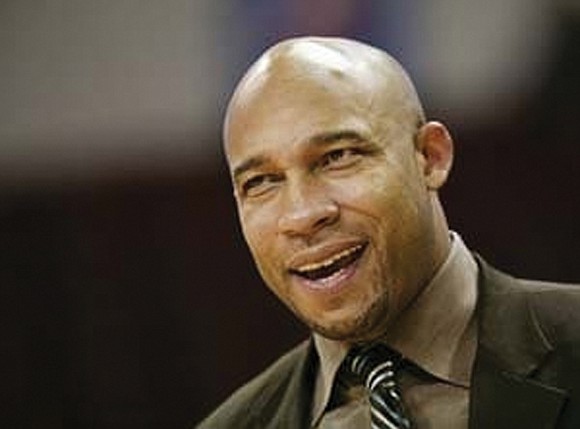 Richmonders may recall Darvin Ham. As a member of the Texas Tech Red Raiders in March, 1996, Ham demonstrated the most emphatic slam dunk in the annals of the Richmond Coliseum.
Facing North Carolina in the NCAA East Regionals, Ham hammered home a thunderclap dunk that shattered the backboard. Glass fragments flew all the way to the other foul line and resulted in a half-hour delay for repairs and cleanup.
A photo of the smashed glass appeared the next week on the cover of Sports Illustrated. Ham had made Richmond famous.
That same Ham, now 48, is back in the headlines as the new head coach of the wobbling Los Angeles Lakers.
Replacing Frank Vogel as head coach, Ham has his work cut out for him. The Lakers were 33-49 this past season and failed to make the playoffs despite a star-studded roster with LeBron James, Russell Westbrook and Anthony Davis.
The hiring of Ham represents something of a milestone among NBA coaches.
With Ham running the show at the Crypto.com Arena in LA, there are now a record-high 15 Black head coaches, 50 percent, in the 30- team league. The Charlotte job remains open.
That's up from 13 during 2021-22. Mike Smith in Sacramento and Ham replaced white coaches. Also during this season, the NBA was 73.2 percent Black players.
It's been a decades long, uphill climb for men of color on the sidelines. Bill Russell became the first Black head coach in 1966 with Boston. The Celtics won the 1968 and 1969 NBA titles with Russell the player/coach. He was later coach of Seattle and Sacramento.
In LA, Ham will have to make do with no first or second round draft picks. The Lakers lost their 2022 picks through previous trades.
While undrafted coming out of Texas Tech, Ham played in the NBA from 1996 to 2005 and has served as an assistant coach in Los Angeles, Atlanta and, most recently, Milwaukee, where he helped guide the Bucks to the 2021 crown.
Ham's colossal dunk at the Coliseum had a happy ending for the Texans. The Red Raiders went on to defeat the favored Tarheels, 92-73, to advance to Sweet 16.
Now, on an even brighter stage, Ham can only hope to be the smashing success in LA that he was in Richmond.