Dr. Robert L. Pettis Sr., longtime pastor or Zion Baptist Church, dies at 67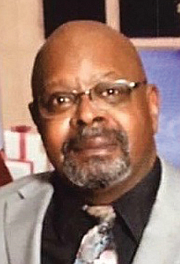 Dr. Robert Lee Pettis Sr., a well-regarded minister who was in his fifth decade of leading Zion Baptist Church in South Side, has died.
Just 27 when he was called to Zion Baptist's pulpit as its ninth pastor in 1981, Dr. Pettis was "a loving husband, a loving father, a kind person who cared for others," said his wife of 39 years, Palma Duncan Pettis.
Dr. Pettis died Saturday, March 19, 2022, his family said. He was 67.
Mrs. Pettis said her husband, who had successfully guided the Zion Baptist congregation through the pandemic, succumbed to a severe allergic reaction to a blood pressure medication.
His life as a spiritual leader, teacher, evangelist and author will be celebrated 11a.m. Saturday, March 26, at United Nations Church, 214 Cowardin Ave., Mimms Funeral Home announced.
Dr. Jerome O. Lee, transitional pastor of First Baptist Church of Charlottesville, will officiate, and Dr. David L. Kelly II, pastor of Christ Fellowship Baptist Church of Brooklyn, N.Y., will deliver the eulogy, Mrs. Pettis said.
Born in San Francisco, Dr. Pettis grew up in East Palo Alto, Calif., and by age 8 felt the call to preach.
After graduating from Bishop College in Dallas, he came to Richmond to earn a master's in divinity from Virginia Union University's Samuel DeWitt Proctor School of Theology. He later earned a doctorate in ministry from VUU, with an emphasis on church management.
Dr. Pettis began his career in 1979 as the first youth director for the Baptist General Convention of Virginia. Two years later, he was hired as the new pastor of Zion Baptist, a 300-member congregation at 2006 Decatur St., which traces is beginnings to 1888. Dr. Pettis currently was serving as the parliamentarian for the Baptist General Convention. He was a past president of the Baptist Ministers' Conference of Richmond and Vicinity and a former moderator of the Tuckahoe Baptist Association.
He also was a longtime member and former president of the Parliamentary Law Club of Richmond.
Dr. Pettis authored "Developing and Using a Church Management Manual" and training guides for the diaconate ministry, the pastoral ministry and meditation.
Other churches called on him to preach revivals, conduct Christian education workshops and to provide advice on parliamentary procedure for congregational meetings.
During his tenure at Zion Baptist, he started a community food distribution ministry, a literacy ministry to help members learn to read, a youth ministry, a women's ministry, an evangelism ministry and a liturgical ministry. He also organized a media ministry to ensure the congregation was informed about church events and happenings.
Mrs. Pettis said her husband's main focus was on "saving souls."
She said she met her husband while serving as the church's pianist accompanying the choir.
In addition to his wife, Dr. Pettis is survived a son, Robert L. Pettis Jr.; two daughters, Ashley D. Pettis and Nichole G. Pettis; and a sister, Crystal Pettis.