Basketball legend Bob Lanier dies after cancer battle
5/19/2022, 6 p.m.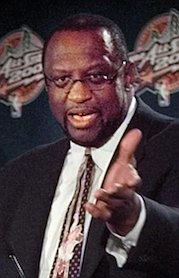 Bob Lanier, who went to the Naismith Basketball Hall of Fame twice — once for his talents; once for his hard-to-believe sneakers — died Tuesday, May 10, 2022.
Mr. Lanier was 73 and had been treated for bladder cancer since 2019.
Standing 6-foot-10 with boulder shoulders and a thick frame, Mr. Lanier was dominant on both the college and NBA courts.
The Buffalo native led St. Bonaventure to the NCAA Final Four in 1970 and was the NBA's first overall draft pick (by Detroit) that same year.
Playing for Detroit (1970-80) and Milwaukee (1980-84), the left-hander was an eight-time All-Star, averaging 20.1 points, 10.1 rebounds and 1.5 blocked shots for 14 seasons. He was powerful in the paint but also showed off a soft shooting touch away from the hoop.
Mr. Lanier was known for his ferocious play on the court and friendly nature when not playing. That rang true in 1986 with his hilarious role in a Miller Lite TV commercial with Boston star Dave Cowens.
Mr. Lanier told Cowens that he (Cowens) had achieved "the two biggest feats" in the NBA. Cowens countered by saying "no, those are the two biggest feets." At that moment, Lanier leaned back in his chair and revealed his oh-my-gosh size 22 Converse shoes.
Early in his career, Mr. Lanier donated one of his boat-sized kicks to the NBA Hall of Fame. A bronze version of his shoe has been on display for decades.
"Most people can put both of their feet into one of my shoes," said Lanier.
For some 30 years following retirement, Mr. Lanier worked as a special assistant to NBA Commissioner David Stern as part of the NBA Cares Global Ambassador youth program. He traveled the world assisting youngsters in need of guidance.
"It was a labor of love," said Stern. "Bob was the kindest, most genuine person I have ever been around." Mr.Lanier's No.31 jersey has been retired by St. Bonaventure and his No. 16 jersey has been retired by both Detroit and Milwaukee.
Anniversary
The big man was formally inducted into the Hall of Fame in 1992 — but his sneakers beat him to it.