Boston, Black men in basketball go hand in hand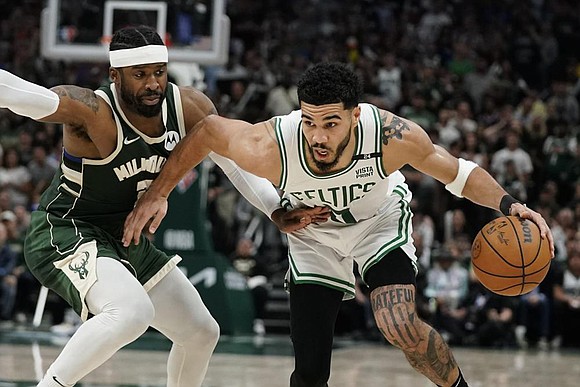 If anyone can do the impossible — make the Boston Celtics fans forget about the likes of legends such as Larry Bird — Jayson Tatum might be the guy, at least among younger rooters.
Down three games to two in the Eastern Conference semifinals against Milwaukee, and facing elimination, Tatum took over.
The 6-foot-8 former first round draft pick out of Duke University had 46 points and nine rebounds in leading Boston to a 108-95 win over the host Bucks in Game Six.
Wearing No. 0, Tatum added 23 points and eight rebounds in the clinching 109-81 win on May 15 in Game Seven, sending the Celts into the Eastern finale against Miami.
Boston is a franchise of "firsts" regarding Black men.
The Celtics were the first in the NBA to start five Black players (Bill Russell, K.C. Jones, Sam Jones, Satch Sanders and Willie Naulls) on Dec. 26, 1964.
Boston was the first club with a Black league MVP (Russell, 1958) and first with a Black coach (Russell, 1966).
Now it is the first team with a coach, Ime Udoka, with both American-Nigerian citizenship. His father, Akwu Ibom, was born in Nigeria and later moved to the U.S.
Coach Udoka, born in Portland, has played for the Nigerian National team in global competition.
Few franchises in any sport have a richer tradition. Boston has 37 former players in the Naismith Basketball Hall of Fame. Jayson Tatum is knocking at the door.