Swansboro Baptist partners with nonprofit to offer free meals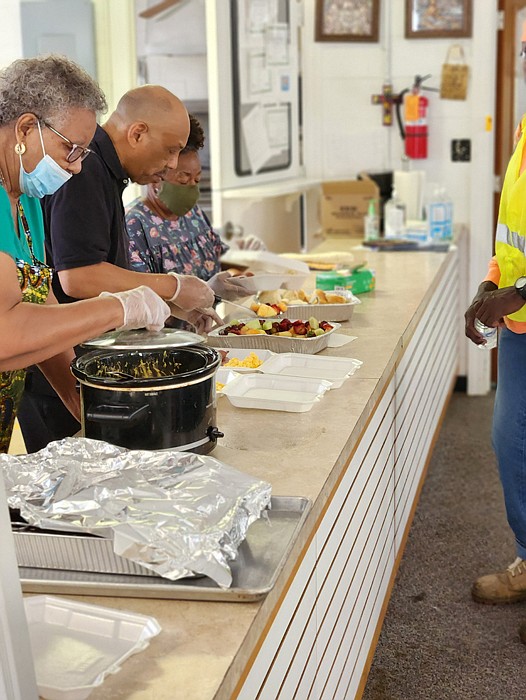 For Kevin Alston and dozens of other hungry South Side residents struggling with food costs, Swansboro Baptist Church is now the place to go for a free hot lunch.
"They're a godsend," said Mr. Alston, a day laborer who rides his bike to the church on days when he cannot find work.
The church at 3801 Midlothian Turnpike now offers hot meals and free take-home food items five days a week on behalf of the nonprofit Richmond Friends of the Homeless, a group that founder and leader Shawnee Hansen created in 1986 to tackle hunger issues.
Swansboro started serving Monday through. Fridaysin mid-March, taking over from Broomfield Christian Methodist Episcopal Church on Richmond Highway. Broomfield ended its role as the host site after 14 years.
"We were offered an opportunity and we took it," said Luther A. Brown Jr., chair of Swansboro Baptist's Trustee Board.
Both he and the board's vice chair, Josephine S. Myers, are regulars in helping to set up and serve during the noon to 12:30 p.m. time period the weekday program operates.
Elaine Miller, a retiree, leads the preparation and serving, just as she did at Broomfield. She said the program gives her purpose. "It helps me as much as it helps the people we serve," Ms. Miller said.
Ms. Hansen has welcomed the support from Swansboro Baptist and is hoping the word will spread so that more people will come. She said that Friends was serving 120 people a day at Broomfield, but has yet to get more than 20 people at Swansboro.
The hot food comes from affiliated churches, while volunteers like Joseph Warren also bring the take-home food. He picks up from Good Samaritan Ministries, which often has extra food items and seeks to distribute it to other operations.
Richmond Friends also serves five days a week at Greater Mt. Moriah Baptist Church in Gilpin Court.
The program also has had a weekend operation in Fonticello Park in South Side. Ms. Hansen said that program that provides hot lunches from 1 to 1:30 p.m. on Saturday and Sunday is moving to Tabernacle of Praise, 2668 Hull St.