Recovery and reflection
Hawaii works to identify wildfire's 107 dead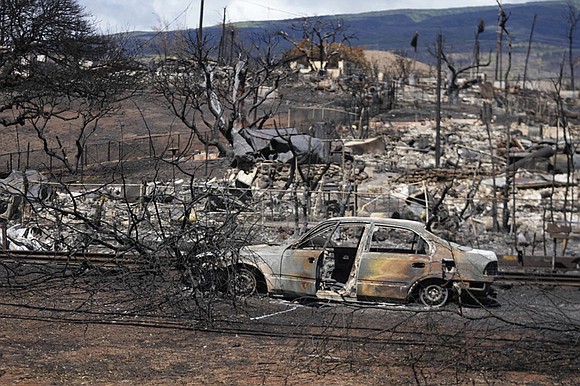 LAHAINA, Hawaii - Hawaii officials worked painstakingly to identify the 107 people confirmed killed in wildfires that ravaged Maui and expected to release the first names Tuesday, even as teams intensified the search for more dead in neighborhoods reduced to ash.
A week after a blaze tore through historic Lahaina, many who survived have started moving into hundreds of hotel rooms set aside for displaced locals while donations of food, ice, water and other essentials have poured in.
Crews using cadaver dogs have scoured about 25% of the search area, the police chief said Monday. Gov. Josh Green asked for patience and space to do the search properly as authorities became overwhelmed with requests to visit the burn area.
"For those people who have walked into Lahaina because they really wanted to see, know that they're very likely walking on iwi," he said at a news conference on Maui, using the Hawaiian word for "bones."
Gov. Green warned that scores more bodies could be found. The wildfires, some of which have not yet been fully contained, are already the deadliest in the U.S. in more than a century. Their cause was under investigation.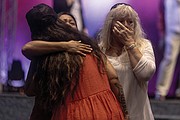 Authorities paused a system that had allowed Lahaina residents and others to visit devastated areas with police permits. Kevin Eliason said when he was turned away, the line of cars with people waiting to get a placard had grown to at least 3 miles (5 kilometers) long.
"It's a joke," Mr. Eliason said. "It's just crazy. They didn't expect, probably, tens of thousands of people to show up there."
The blaze that swept into centuries-old Lahaina last week destroyed nearly every building in the town of 13,000. That fire has been 85% contained, according to the county. Another blaze known as the Upcountry fire has been 65% contained.
Even where the fire has retreated, authorities have warned that toxic byproducts may remain, including in drinking water, after the flames spewed poisonous fumes. That has left many unable to return home.
The Red Cross said 575 evacuees were spread across five shelters on Monday, including the War Memorial Gymnasium in Wailuku. Gov. Green said thousands of people will need housing for at least 36 weeks.
More than 3,000 people have registered for federal assistance, according to the Federal Emergency Management Agency, and that number was expected to grow.
"We're not taking anything off the table, and we're going to be very creative in how we use our authorities to help build communities and help people find a place to stay for the longer term," agency administrator Deanne Criswell said.
FEMA has started to provide $700 to displaced residents to cover the cost of food, water, first aid and medical supplies. The money is in addition to whatever amount residents qualify for to cover the loss of homes and personal property.
President Joe Biden's administration is seeking $12 billion more for the government's disaster relief fund as part of its supplemental funding request to Congress.
Gov. Green said "leaders all across the board" have helped by donating over a million pounds (454,000 kilograms) of food as well as ice, water, diapers and baby formula.
"When people are hurting, the community steps up and takes care of each other," Lt. Gov. Sylvia Luke said at a news conference Monday.
A small number of active duty U.S. Marines also have joined the aid efforts.
Meanwhile, the local power utility has faced criticism for not shutting off power as strong winds buffeted a parched area under high risk for fire. It's not clear whether the utility's equipment played any role in igniting the flames.