Judge holds Giuliani liable in Georgia election workers' defamation case and orders him to pay fees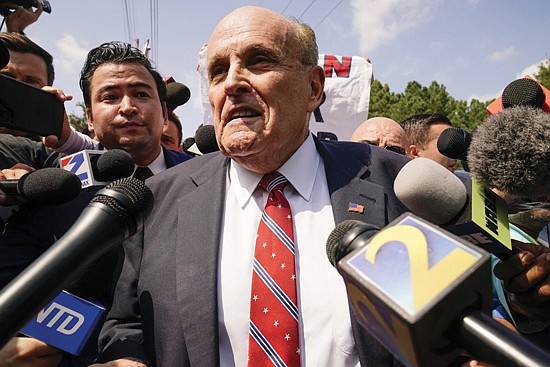 WASHINGTON - A federal judge on Wednesday held Rudy Giuliani liable in a defamation lawsuit brought by two Georgia election workers who say they were falsely accused of fraud, entering a default judgment against the former New York mayor and ordering him to pay tens of thousands of dollars in lawyers' fees.
U.S. District Court Judge Beryl Howell said the punishment was necessary because Mr. Giuliani had ignored his duty as a defendant to turn over information requested by election workers Ruby Freeman and her daughter, Wandrea "Shaye" Moss, as part of their lawsuit.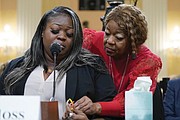 Their complaint from December 2021 accused Mr. Giuliani, one of Donald Trump's lawyers and a confidant of the former Republican president, of defaming them by falsely stating that they had engaged in fraud while counting ballots at State Farm Arena in Atlanta. In a statement Wednesday, the women said they had endured a "living nightmare" and an unimaginable "wave of hatred and threats" because of Mr. Giuliani's comments.
"Nothing can restore all we lost, but today's ruling is yet another neutral finding that has confirmed what we have known all along: that there was never any truth to any of the accusa- tions about us and that we did nothing wrong. We were smeared for purely political reasons, and the people responsible can and should be held accountable," they said.
The ruling compounds the legal jeopardy for Mr. Giuliani at a time when he and Mr. Trump are both among 19 defendants charged this month in a racketeering case related to efforts to overturn the 2020 election in Georgia. It also creates the potential for a massive financial penalty for Mr. Giuliani as the case proceeds to a federal trial in Washington to determine damages he may be liable for.
He will have a "final opportunity" to produce the requested information, known under the law as discovery, or face additional sanctions if he fails to do so. In the meantime, Judge Howell said, Mr. Giuliani and his business entities must pay more than $130,000 in attorneys' fees.
"Donning a cloak of victimization may play well on a public stage to certain audiences, but in a court of law this performance has served only to subvert the normal process of discovery in a straight-forward defamation case, with the concomitant necessity of repeated court intervention," Judge Howell wrote.
Judge Howell said that aside from an initial document produc- tion of 193 pages, the information Mr. Giuliani had turned over consisted largely of "a single page of communications, blobs of indecipherable data" and "a sliver of the financial documents required to be produced."
Mr. Giuliani has blamed his failure to produce the requested documents on the fact that his devices were seized by federal investigations in 2021 as a part of a separate Justice Department investigation that did not produce any criminal charges.
Ted Goodman, a political adviser to Mr. Giuliani, said in a statement that the judge's ruling "is a prime example of the weaponization of our justice system, where the process is the punishment. This decision should be reversed, as Mayor Giuliani is wrongly accused of not preserving electronic evidence that was seized and held by the FBI."
Last month, Mr. Giuliani conceded that he made public comments falsely claiming the election workers committed ballot fraud during the 2020 election, but he contended that the statements were protected by the First Amendment.
That caveated stipulation, Judge Howell said, has "more holes than Swiss cheese" and suggested Mr. Giuliani was more inter- ested in conceding the workers' claims than actually producing meaningful discovery in the case.
"Yet, just as taking shortcuts to win an election carries risks — even potential criminal liability — bypassing the discovery process carries serious sanctions, no matter what reservations a noncompliant party may try artificially to preserve for appeal," she said.
Ms. Moss had worked for the Fulton County elections department since 2012 and supervised the absentee ballot operation during the 2020 election. Ms. Freeman was a temporary election worker, verifying signatures on absentee ballots and preparing them to be counted and processed.
Mr. Giuliani and others alleged during a Georgia legislative subcommittee hearing in December 2020 that surveillance video from State Farm Arena showed the election workers committing election fraud.
As those allegations circulated online, the two women said, they suffered intense harassment, both in person and online. Ms. Moss detailed her experiences in emotional testimony before the members of Congress investigating the Capitol insurrection. The Jan. 6 committee also played video testimony from Ms. Freeman during the hearing in June 2022.