All rise
Lawmakers applaud Justices stellar season; custom suits further accent team's success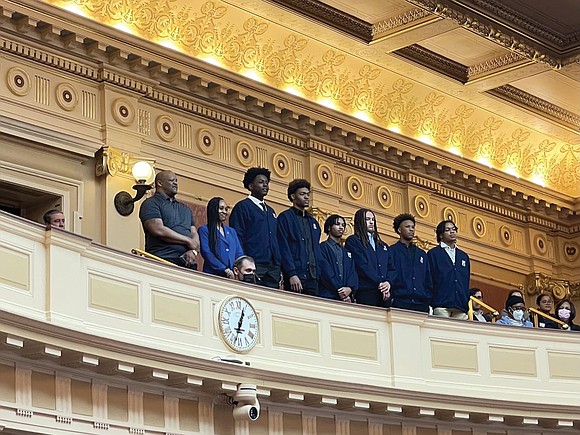 John Marshall High, named after the former Supreme Court Chief Justice, has been laying down the law this season on the basketball court.
Virginia's lawmakers have taken notice.
Earlier this month, the Justices were honored on the floor of the Virginia Senate, in a move organized by 9th District Sen. Jennifer McClellan.
"The Senate reached out to honor our guys," said JM Coach Ty White. "We got the chance to talk to some of the senators, one on one. It was very nice."
JM, 22-0 and ranked No. 2 nationally by MaxPreps.com, had a busy weekend leading into this week's Class 2 Regionals.
On Saturday, Feb. 18, a tailor came to the North Side school to measure all the players for custom-made JM blue suits. That would require some long inseams since at least four Justices are 6-foot-6 or taller.
"We hope to wear them in the playoffs," said Coach White, who declined to name the tailor.
On Sunday, Feb. 19, the team went as a group to worship at Speaking Spirit Ministries on Ravenswood Road.
On Monday, JM began quarterfinal Class 2A Region play against Prince Edward. The semifinals were Wednesday night with the finals set for Friday at Huguenot High.
The State 2A dates are March 3-4 for quarters, March 6-7 for semis and March 9-11 for finals at VCU's Siegel Center, where JM won 2022 top honors over Radford.
JM entered this week's playoffs on a historically dominating run.
After defeating Grayson, Ga. 66-53 on Jan. 16, the Justices have prevailed by margins of 48, 32, 45, 43, 35, 53, 51 and 42 points.
Even the legendary Petersburg teams with Moses Malone (50-0 in 1973-74) never punished the opposition to that degree.
Individually, 6-foot-7 North Carolina State bound Dennis Parker leads in scoring with 19.3 per game. He is followed by Jason Rivera (14.8), Redd Thompson Jr. (14.2) Latrell Allmond (12.6), Dominique Bailey (7.7) and first-off bench 6-foot-6 sophomore Desmond Rose (5.5).
Allmond, a 6-8 freshman, leads in rebounds (9.1), blocked shots (3.3) shooting (61 percent).
Rivera, a 6-foot-foot-6 senior, tops in steals with 3.5 per.
Thompson, a 6-foot junior, is No. 1 in free throws and three-point percentages with 82 percent and 40 percent, respectively.
Bailey, a 6-foot-1 junior, is the assists leader with 4.2 per and a defensive dynamo.
Assuming all goes as planned in Regionals and State, Coach White is exploring the possibility of advancing to a national tournament.
He provided no details. It would likely be the first time a VHSL school kept playing after states and there are rules that may prevent it.
But this is John Marshall, you know. Maybe the Supreme Court could make a ruling.