Basketball and cars drive John Marshall's Damon 'Redd' Thompson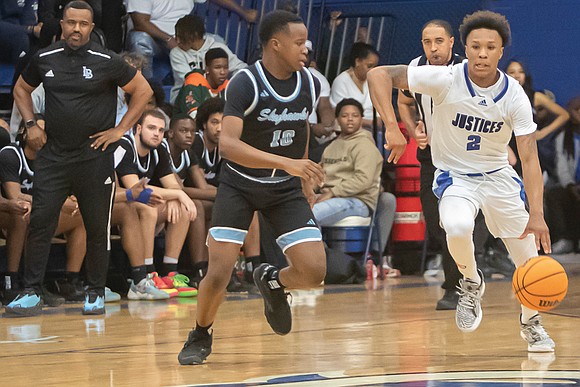 Vrooom! Damon "Redd" Thompson Jr. can rev up a basketball team with his blinding speed and exciting array of skills.
The John Marshall High School junior knows a few things about firing up a car engine, too. Hoops fans know Thompson as "No. 2 in Blue," the dynamic point guard for Coach Ty White's North Side perennial powerhouse.
The defending State 2A champion Justices, 11-0 this season, have won 30 of their last 31 games over two seasons and are currently ranked first nationally by MaxPreps.
Away from the hardcourt, you might find the 17-year-old with his head under the hood of a car at nearby MTK Premier Auto Boutique on Brook Road. "Redd" doesn't mind getting a little grease under his fingernails.
Mixing old and new
John Marshall's dominating first five features three talented returnees from last year's State 2A champions, plus two towering transfers.
Back from 2022 are North Carolina State commit Dennis Parker, a senior, and juniors Damon "Redd"Thompson and Dominique Bailey. Parker is the Justices' scoring leader at 20.4 points per game.
Newcomers are 6-foot-8 freshman Latrell Allmond and 6-foot-6 senior Jason Rivera. Allmond averages 12 points and 10 rebounds. Rivera averages 14 points and nine boards.
When most teenage athletes are asked about other activities, the general reply is "playing video games and hanging out with friends."
Here's Thompson's version: "I like to work on cars," he said. "I got involved through my uncle at MTK."
That would be MTK owner Mike Wiggins.
"Redd is a car-head for sure," said Wiggins. "It's a hobby for him, but he enjoys the entire culture ... he loves all cars, especially hypers."
Thompson drives his own Honda Crosstour to JM home games. Then he turns the key on a JM attack that seems destined for a second straight State 2A title.
"Redd can score, pass, play great defense ... basically he does whatever we need on a given night," Coach White said. "He's instrumental in all we do."
Thompson says his main goal, as primary ball handler, is "to be a leader."
Asked to describe his offensive style, he said "smooth."
And defensively, he aims to be "as annoying as possible" in the Justices' relentless full-floor pressure style.
Thompson was at his best against the best. He was "Redd Hot" at the Chick-Fil-A Classic in Lexington, S.C., scoring 63 points in three games in late December.
In South Carolina, the whippet-quick 6-foot, 165-pounder dazzled with his scoring, playmaking, and his own brand of "annoying" defense.
He was named MVP of one of America's most prestigious in-season tournaments.
On the season, Thompson averages 15.1 points and three assists, while hitting 35 per- cent of his three-pointers and 82 percent at the foul stripe.
Already, he's received eight NCAA Division I scholarships offers from High Point, George Washington, New Jersey Institute of Technology, Hofstra, Mount St. Mary's, Jacksonville, Robert Morris and College of Charleston.
The list is likely to grow as Thompson continues to put his talents on display for JM (Class of '24) and powerful AAU Team Loaded on the travel circuit.
He is the son of Damon "Redd" Thompson Sr. and Valentina Thompson, both Virginia State University alumni.
"Redd Sr." is the greatest football receiver in VSU annals, setting an NCAA Division II record for most catches (262). He has been elected to both the VSU and CIAA Hall of Fames.
Valentina Thompson was a Woo-Woo cheerleader at VSU and is currently the JM librarian.
JM's Coach White was Redd Sr.'s and Valentina's classmate at VSU.
"Redd Jr." might have been headed for a football career, too, before breaking his arm as a 10-year-old with the Glen Lea Association. After that, it's been all hoops.
JM is cruising for its third Class 2 state crown in the last four years. And with "Redd Jr." at the steering wheel, it looks like a smooth ride ahead.