Freedom Classic: VUU's 'Wizard of Os' shows power in victory over VSU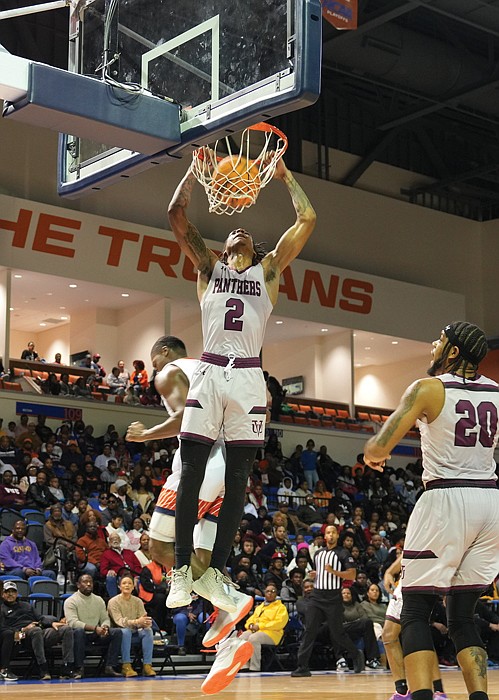 The rafters above Barco-Stevens Hall court are decorated with retired and honored jersey numbers from the school's glorious basketball past.
Don't be surprised if Virginia Union University officials don't find room someday to add Robert Osborne's No. 23 to the display.
More glory seems imminent with the "Wizard of Os" showing off his unique skills set.
Since transferring to VUU from Hampton, Osborne has been Coach Jay Butler's king on the chessboard, with powers others don't possess.
The 6-foot-5 senior was at his left-handed finest Jan. 14 in leading VUU to a 77-69 road victory at Virginia State in the annual Freedom Classic.
Osborne had 27 points (11-for-20 from floor), six rebounds, four assists and seemed determined to bring the "I-95 Trophy" back to Richmond.
It was a "must game" for VUU if it wanted to contend for the CIAA North. Had the Panthers lost they would be three games behind the Trojans.
Now the title is likely to come down to the final game of the regular season, Feb. 18, when VSU visits Barco.
Set your dial
The TV network BCSBN will broadcast the VUU and VSU games on Saturday, Jan. 21. Elizabeth City will play at Virginia State at noon, followed by Virginia Union at Bowie State.
VUU is now 14-4 overall and 3-2 in CIAA. VSU is 11-5, 6-1.
Over the past two seasons, the Panthers are 37-11 overall and 17-5 in the CIAA. Much of that has to do with Osborne (MVP of 2022 CIAA tourney), who has been described as the "best VUU player in post-(Coach) Dave Robbins' era."
Osborne leads the CIAA in scoring (19.7), is second in rebounds (8.5), and surprisingly third in assists (3.5), something you don't expect from an inside player.
The former Hermitage High star has a shot at joining VUU's 1,000-point club in just two seasons.
Much of the Panthers' offense spins off Osborne's ball-handling. He might even be listed as a "point power forward."
"Os" wasn't alone against the Trojans. Keleaf Tate nailed three 3-pointers and scored 17. Raemaad Wright had six points and 12 rebounds. Allon Johnson came off the bench for eight points and four rebounds.
And then there was bouncy Charles Tart, a 6-foot-4 sophomore who seems to have coils in his knees. Tart's eight points all came from above the rim.
VSU, trailing 45-32 at intermission, was led by Terrence Hunter-Whitfield with 22 points, B.J. Fitzgerald with 21 and Tremere Brown with 14 points and seven rebounds.
The downside to the Freedom Classic was the attendance, listed at just 894. The game that once drew close to 10,000 has not taken off as a fan favorite since moving from the Richmond Coliseum (now closed) to Ettrick.
With classes not in session, even the cheerleaders were no shows at the Multi-purpose Center.
VSU's famed Woo Woos were replaced by a team from Petersburg High, while a squad from Varina High filled in for VUU. Much to their credit, the substitute squads displayed non-stop spirit throughout the game.