Personality: Brian Bell
Spotlight on Keep Virginia Cozy founder
1/26/2023, 6 p.m.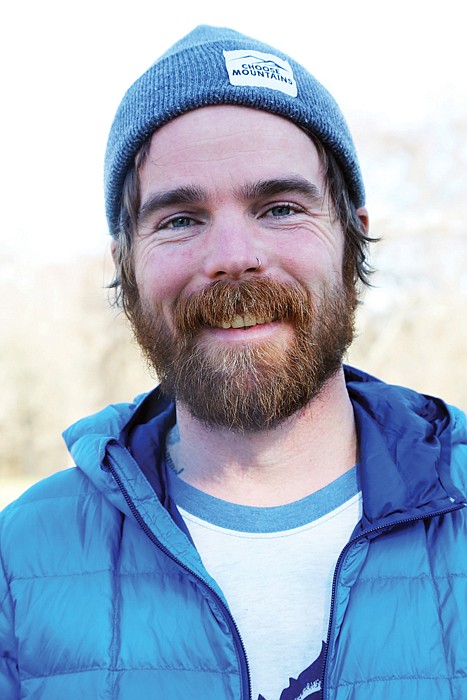 Picking up trash and litter while hiking and backpacking trails throughout the United States may sound like a strange hobby. But Brian Bell said he has always felt compelled to do it from the time he was a Boy Scout.
"I was raised to believe that you don't leave things worse than you found them," he said. "I have always picked up trash myself because I wouldn't feel good about myself if I could've done something and I didn't."
When friends joined him on hikes, they picked up the habit as well and Mr. Bell saw an opportunity to improve the health and appearance of trails. In 2017 he started Keep Virginia Cozy, an organization that schedules cleanups in different natural, outdoor areas around the state.
"It evolved into a fun way to get outside and be together with friends," he said.
An avid hiker, Mr. Bell has backpacked all over the United States, including California, Oregon, New Hampshire, North Carolina, Tennessee, Virginia, West Virginia, Maryland, Pennsylvania, upstate New York, and Massachusetts. Last May, he joined friends in Scotland, traveling across the country from coast to coast.
"We started in a town called Shiel Bridge on the Atlantic side, and hiked 240 miles across the highlands, ending in Aberdeen on the coast of the North Sea." The trip so inspired Mr. Bell that he plans to return to Scotland this year.
There is no one particular place that inspires Mr. Bell and fuels his passion for cleanup more than another, he said. "Everywhere I go lights up that spark a little bit. You go to Shenandoah National Park or places we go into the back country, and you are made aware of how important it is to preserve what we have."
To date, Keep Virginia Cozy is responsible for more than 100,000 pounds of litter removal and recycling from parks, neighborhoods, forests and shared green spaces. Reusable gloves and bags are used by participants for each cleanup, so that no waste occurs. People are responsible for maintaining the beauty of green space, he said, and also must be willing to con- nect with it.
"I definitely think you should spend more time outdoors," he said. "Walk around your neighborhood, or just sit outside for 10 minutes — there's really no wrong way to do it."
Meet a green space advocate and this week's Personality, Brian Bell:
Occupation: Founder of Keep Virginia Cozy.
Date of birth: July 14. Where I live now: Richmond.
Education: Bachelor's in environmental studies.
Family: Mother, Anne Bell; father, Richard Bell; sister, Erin Kutsko; nieces Eleanora and Evelynn Kutsko.
Keep Virginia Cozy is: An environmental nonprofit based in Richmond. We work to conserve our lands by connecting more people to them, promoting inclusivity in them, and increasing accessibility to them.
When and why I decided to start Keep Virginia Cozy: I started Keep Virginia Cozy as a way to get friends outside, beautify nature by removing the litter we came across on local hikes and outings, and help keep our shared spaces cozy for all to enjoy.
How I came up with the name: I chose "cozy" because when you hear that word you automatically think of a safe/ friendly/inviting place, and that's exactly what the outdoors has always been for me.
Keep Virginia Cozy's motto: Be kind. Pick up litter. Smile at strangers. Keep Virginia Cozy.
Places Keep Virginia Cozy focuses on cleanup throughout the state: Heavily in the Richmond and Greater Richmond area because this is where I live. We also manage sections of trail in Shenandoah National Park, and we work heavily in the George Washington and Jefferson National forests.
The difference between litter and trash: Litter is laziness and a lack of understanding or caring about your impact on the world around you. We are working to educate through action and show folks that, though it may not be our trash, this is our community and we are working to take care of it.
City cleanup versus suburban cleanup: Both are great because, regardless of the venue, you are making an immediate and positive impact on the environment around you.
Keep Virginia Cozy organizes for a cleanup by: Picking a place that could use some love and attention, highlighting the area on social media, setting a date and time, and getting all the logistics in order to conduct a zero waste cleanup!
Cleaning up, we stay safe by: Wearing gloves, cleaning with a buddy (people in pairs at events), and setting an end time and meetup location. Everyone who participates also has our contact information.
Most unusual find during a cleanup: Someone once found a partially buried shoebox full of miniature faceless dolls. It was a bit creepy.
One person's trash is another person's treasure: Absolutely true! We used all the recycling from cleanups in 2019 to create a gill net that kept litter from flowing down Reedy Creek into Forest Hill Park.
Ongoing programs and ways to get involved: Monthly litter cleanups and corporate-sponsored cleanups! Follow our Facebook and Instagram (@keepvirginiacozy). Come join us at one of our weekend cleanups! Businesses can sponsor and host their own corporate cleanup. We have done more than 80 corporate cleanups in two years.
Upcoming events: Sunday, Feb. 12, 2023, will be our Black History Month Cleanup in Jackson Ward. We will meet at the Black History Museum and Cultural Center of Virginia at 12 p.m. and have a litter cleanup following a talk by Black History Museum staff about the area! We also have our third annual Cozy Ol' Brewgrass Festival coming up in June 2023. The event will include local bands, local vendors, local beer, all coming together for a night to celebrate the outdoors in Virginia. Ticket sales go directly into programming for the upcoming year.
How I start the day: I start my days with coffee, a trail run, and a podcast fueled by dog walk before work.
The three words that best describe me: Motivated, friendly and feral.
Best late-night snack: Baby Bell cheese.
How I unwind: Trail run, long hike, good book, nap, listening to a podcast, turning off my phone, and relaxing with my dogs, Boots and Camper.
Something I love to do that most people would never imagine: I actually take time to answer surveys after phone calls and trips because I feel like they (customer service representatives/companies) don't get enough positive feedback.
A quote that inspires me: "I would rather be ashes than dust! I would rather that my spark should burn out in a brilliant blaze than it should be stifled by dry rot. I would rather be a superb meteor, every atom of me in magnificent glow, than a sleepy and permanent planet. The function of man is to live, not to exist. I shall not waste my days trying to prolong them. I shall use my time." — Jack London
At the top of my "to-do" list: Backpack and hike more.
The best thing my parents ever taught me: I am in control of my own happiness.
The person who influenced me the most: My entire family influences me. I learn so much from them and different things from all of them.
Book that influenced me the most and how: "My Side of The Mountain" by Jean George. This was the first "real" book I ever read, around fourth grade or so.
What I'm reading now: "Finding the Mother Tree" by Sara Wright. No takeaway yet — I started reading it recently.
Next goal: I'm going back to Scotland in May and will be backpacking the five highest peaks there with friends.