Shielding from responsibility?
City mum on funds diverted to police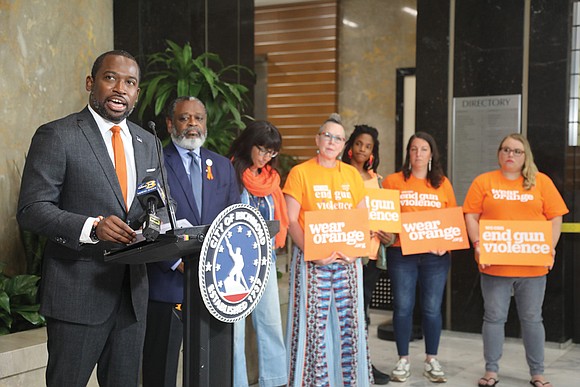 Mayor Levar M. Stoney joined community partners Tuesday to announce the city is all for trying to prevent the killings that leave bodies in the street and families in mourning.
However, during his City Hall press conference, the mayor didn't mention that just a few weeks ago his administration gained approval from City Council to divert $300,000 from youth violence prevention initiatives to buy new protective shields for police officers.
The grant came from the Virginia Office of the Attorney General (OAG), which is divvying up federal funds it received to promote anti-violence initiatives. The decision to use the money to buy police shields appears to violate conditions contained in a memorandum of understanding that the Stoney administration signed in March to receive the grant.
One condition reads: "The CITY assures that funds received will be used strictly to support data-informed violence reduction initiatives and programming by the police department. These projects should be community informed..."
While OAG modified the terms to allow for the purchase of police equipment, the memorandum the city signed also states as a separate condition that funding must go to "programming ... developed utilizing the findings of the (Richmond's) Youth and Gang Violence Community Assessment currently being funded through the Virginia Department of Criminal Justice Services and will reflect either new programming or existing program enhancement."
Instead, according to the city, the funding is going to "protect and secure police officers while on duty" in the form of shields to protect them and their cars from gunfire, even though there is no mention of such shields in the city's assessment.
At a time when there has been a rise in gun violence in Richmond, and as City Hall will be bathed in orange lights this week in honor of National Gun Violence Awareness Week, there has been no explanation from the mayor or city officials as to why the money was diverted from programs that offer positive outlets for youths, such as a community gardening program that a nonprofit called Kinfolk Community operates in Gilpin Court and similar locations.
Community organizer Omari Al-Qadaffi is among those who have expressed disappointment and even anger at what they see as a diversion of critical resources that could make a difference in the lives of the city's youths.
"This feels so aggressive for the city to deny the Black community and our organizations gun violence prevention funding from (the OAG) for over a year and then decide to restrict the dollars to the police."
In a follow-up tweet, he bemoaned the fact that "the same Richmond politicians who knelt, prayed and marched with protesters for police accountability in 2020 are now militarizing the police with ballistic car shields using a grant that was meant for gun violence prevention."