Conducting the future: Burrs holds the baton at UR, Petersburg
Debora Timms | 6/29/2023, 6 p.m.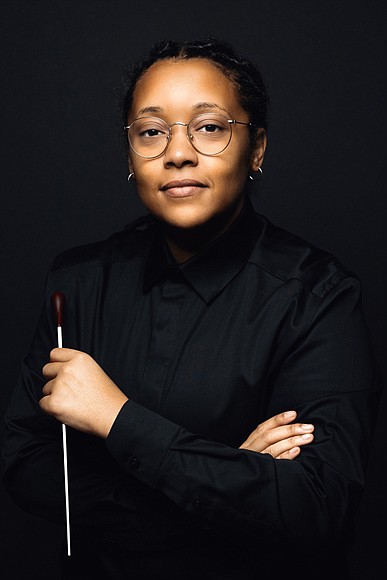 Naima Burrs grew up surrounded by music. The Richmond native's mother is renowned soprano Lisa Edwards-Burrs. Her father, Stacy L. Burrs, is a former CEO of the Black History Museum and Cultural Center, a former director of Venture Richmond and a jazz aficionado.
Thus, Naima Burrs was exposed to all types of music and spent a lot of time attending her mother's rehearsals and performances as a youngster. Although she learned to love classical music, she didn't imagine following in her mother's footsteps.
"Music was absolutely not my aspiration when I was younger," Ms. Burrs confessed in a recent phone interview.
Of course, that didn't mean music lessons weren't a part of her life. She and brother Morgan Burrs, a jazz guitarist, both started out playing piano.
"She was always musical, right from her first piano recital. Her phrasing and expressives really captivated me," her mother said. "Then she found her love for the violin."
A school visit by the Richmond Symphony Quartet when she was a fourth-grader at J.B. Fisher Elementary affected her.
"I was always around orchestras and never once in those encounters did I think, 'Oh, I have to play that,'" Ms. Burrs said. "[The school visit] obviously made me interested enough to go home and say, 'Hey mom, I gotta play this.'"
Even though she loved the violin, Ms. Burrs harbored ambitions. As a student at Appomattox Regional Governor's School, she considered a career in engineering until a conversation with Michelle Basile, the school's orchestra director, ignited her true passion.
She decided there was something for her in music and headed to Virginia Commonwealth University for her undergraduate degree. While she was there, Ms. Burrs discovered something else as well — an interest in conducting.
The chance to study for a Masters of Music in violin performance while working as a graduate assistant took Ms. Burrs to the University of Northern Iowa in Cedar Falls next.
"Iowa was interesting - talk about a culture shock," Ms. Burrs said. "You might think 'Iowa - middle of nowhere - probably doesn't have much,' but it was the exact opposite. The opportunities available, the faculty I was able to study with ... it was really a first-class education."
Now Ms. Burrs's life is steeped in music. She is a professional violinist, a lecturer at Virginia State University and a doctoral candidate in instrumental conducting through Catholic University of America. She credits an associate professor there, Simeone Tartaglione, for getting her into the program she expects to finish in December.
"He saw my potential and took a chance on me when I had very little experience in the conducting realm," Ms. Burrs said.
She conducted her first opera pastiche with Richmond's Capitol Opera about a decade ago and won her first conducting post as assistant conductor of the Hopkins Symphony Orchestra at Johns Hopkins University for the 2021-22 season. Now she is the conductor of the Uni- versity Symphony Orchestra at the University of Richmond and the music director for the Petersburg Symphony Orchestra.
Ms. Burrs says people probably don't realize what it takes to be a conductor. Being able to communicate is critical, as is the time that goes into preparation. Knowing the score and the his- tory behind a piece is part of being prepared.
"[As] a musician, you spend most of your life with your instrument," she said. For a conductor, the orchestra is our instrument and we have such limited access to an orchestra. So much of your preparation happens alone and through your own imagination so that you have a plan when you finally get the chance to be in front of an orchestra."
Being fully prepared helps to curb her nerves before a performance, but with so much on her plate time is a precious commodity.
"I live and die by my calendar," Ms. Burrs said of her busy schedule. "One of the hardest things is keeping up with emails. I have like five different email addresses."
But that doesn't mean she isn't also taking on new challenges. In fact, Ms. Burrs has just been named the director of orchestral activity at VSU. Being able to afford more students the chance to be part of orchestral programs is a goal she shares with the school.
"With that being said, that means we really have to take a look at the school systems to partner and help facilitate starting programs at the elementary level."
Ms. Burrs knows from her own experience what a difference that early exposure can make.
Ms. Burrs is also working toward auditioning for competitions and prestigious summer programs. She also hopes to find the time and a project to collaborate on with her brother Morgan, who plays with the jazz quintet Butcher Brown.
"Ultimately, I would love to have a career as a traveling guest conductor and to have the opportunity to work with various top-tier orchestras all over the world," she says, adding her gratitude for those whose fight to be recognized as equals paved the way for her and her pride at being instrumental in helping those who follow to pick up the baton or the bow.
Black female conductors are rare in the music world, a fact Ms. Burrs is well aware of. She hopes students who see her holding the baton are inspired.
"It is heartwarming to hear from young Black students or young girls," Ms. Burrs adds. "When they know that there is someone who looks like them doing what they want to do, it makes them feel like they have a chance. That's why representation is so important."
Naima Burrs makes her guest conducting debut with the Richmond Symphony Orchestra on July 4 at Meadow Farm Museum in Glen Allen for "Red. White, and Lights 2023." richmondsymphony.com